J. Douglas Burton Walks in His Sleep
Meet today's guest J. Douglas Burton, author of YA fantasy with characters you have to love. Really, you have to, or he'll get you with that umbrella.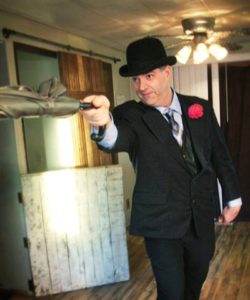 J Douglas Burton is a clever pseudonym for real-life human being 'James Douglas Burton' who hopes you'll never find out his real name.
Although born in the United States of America, Burton actually grew up on the bonnie shores of Scotland (and inland, as well) but moved back to the States as soon as he could afford it. Sorry Scotland.
Currently he resides in Lincoln, Nebraska, where he hopes to become a recognized author. Or even just recognized. Seriously, even his friends barely remember who he is.
He is the writer of The Sleepwar Saga YA novels, as well as several novellas available for the Kindle, including The Star Travels of Dr. Jeremiah Fothering-Smythe, whose six installments are also available in collected versions both for the Kindle and in actual paperback form which you can hold in your hands and everything.
Interview
Tell us a little about yourself
Hi!  I'm J Douglas Burton – but you can call me "Doug" or "JD".  You know, if you want.
I was born way back in the distant past of 1978 [Jamie's note: Cheeky kid. I was born in 1967. '78 isn't the distant past.] in Cynthiana, KY – but never really lived there.  Instead, I grew up in Scotland.  The majority of my youth was spent in Cumbernauld – near Glasgow – until after graduation from university, I moved back to the States.
I never was entirely certain what I wanted to do with my life.  Besides live it, I mean.  For many years what I really wanted was to be a comic book artist – but I didn't have the skill or enough passion to carry it through.  Something I thankfully recognized early enough to save myself some pain.
Later, I was this close to moving to L.A. to pursue screenwriting.  I adore screenwriting, and it is still what I am best at, but again: did I have the passion it would take to endure years of absolutely no money, scraping by on scraps in the vain hope of possibly lucking into a job?
No.  Sadly.
But I eventually discovered another form of writing that I could pursue – one which I loved equally to screenwriting.
Books.
2. What are your biggest literary influences? Favorite authors and why?
My favorite author is – without a doubt – Vladimir Nabokov.  The man could manipulate the English language like no native speaker ever had, and his prose absolutely sings.
As for influences, his only effect on my writing is to drive me the other way.  I could never reach anything close to that level of poetic beauty or cleverness, so instead I tend to do the opposite.  Write in a casual, real way inside the heads of my characters.  Try to immerse the reader inside the heads of my leads so that the prose flows like you are merely experiencing their thoughts and not scanning ink on a page.
Others?  David Eddings impacted me in my teenage years with characters that felt so real – and so lovable – that I cared for them every bit as much as I do my own flesh and blood family.  This essential connection is something I similarly strive for in my books.
Gena Showalter also helped bump me along the path to YA.  I read a lot of Young Adult literature (a lot!), but it was her White Rabbit Chronicles that got me thinking about my own team of teenage monster-fighters in The Sleepwar Saga.  Her plots did not influence me, but her tone, the way her characters work together, a conversational style that drips with humor alongside the ichor – this was something I could run with.  Make my own.
Also, my sensibilities about humor, drama, and horror working together are probably shaped in a huge way by Buffy the Vampire Slayer.
3. Tell us something about how you write? i.e. are you a plotter or a pantser? Do you have any weird or necessary writing habits or rituals?
I'm a plotter.  Like, a heavy one.  I remember one screenplay I wrote that was literally me searching all of my scraps of paper to find where I had planned out the next section of dialogue, then searching them all for the subsequent one, etc.
Novels are complicated.  More complex than screenplays, novellas, and obviously short stories.  Some shorter works I can go off of less (or no!) planning – but for a novel, this is impossible.
I know how I work by now.  When I try writing by the seat of my pants, all I end up with is a rambling mess that goes nowhere.  If I want something that really works, then thorough planning is a necessity.
As with most people, I start with a vague idea.  It could be for a plot; more often it's for a scene, or a joke, or the sliver of a character concept.
I scribble it down, and over time it will hopefully attract fellows.  Other little ideas that are (somehow) related.  (Yes, sometimes you find ideas that you think are part of this concept, but actually belong to a different story.)  When I have enough of them, I can begin trying to see if I can piece together the jigsaw puzzle.
Whether I start with character or plot makes no difference – but for the sake of demonstration, I will begin with plot.
I start to scribble down a vague plot outline.  The trajectory is… sort of generally like this.  Maybe?
So, OK.  What does that mean for the characters?
In order to engage with this plot, who are the characters, and why do they behave this way?  To progress in an entertaining way that tells a proper story, this should happen.
Well, then, what does that do to the plot?  Take these ideas back to the plot, add, rewrite, redraw.  There!
But now the characters have to respond this way.  If they're going to have a proper arc, this plot would drive them into this shape.  But I need a different one.  What if…
And so it goes, back and forth, until the plot and character arcs work together to tell an effective and powerful story.  After that, it comes down to the details.  But that's a whole other essay…
4. What is your favorite writing tip or quote?
My favorite was spoken by British TV writer Steven Moffat:
"I love writing!  Especially when it's over and I don't have to do it."
It resonates with me because of how difficult the process of writing actually is.  For me.  If I want to do it well.
I adore writing – except for the part about actually writing.  Because dragging those words out onto the page is excruciating.  And it's only the first step – and the easiest.
Then comes the part where you have to mold that first draft into something workable.  If my outline was solid enough, at least I don't have to reshape the spine of the story.  But that doesn't mean that everything else will work the way I first envisioned it…
Writing is hard.  Non-writers have no idea how hard.  But it is so worth it!
5. Tell us a little about your plans for the future. Do you have any other books in the works?
There are four more Sleepwar Saga books still to come, but I have a few other novels in the planning stages as well.
The next book I will actually draft is likely to be Cogs & Cognizance – a Regency-era clockpunk tale, in the vein of Jane Austen mixed with Philip K Dick.
But I'm also itching to get to Lawyers vs Zombies: The Legal Dead, which I think will be a lot of fun to write!
6. What is your dream vacation?
I prefer "staycations" where I can just be in my apartment.  Writing, watching TV, playing my PlayStation VR.  Whatever.
Going outside is less than ideal.  "The yellow face, it burns!" as Gollum would say.
That said, I'd love going to Japan for a few days.  I'm learning to speak Japanese (sort of – slowly) and would love to visit and see the gorgeous countryside there.
Blog: jdouglasburton.com/blog
Website: jdouglasburton.com
Twitter: @jdouglasburton
Amazon: https://www.amazon.com/J-Douglas-Burton/e/B00YK33KBO
Red Cross on Kindle: https://www.amazon.com/dp/B075WCMVSD
Red Cross Paperback:  https://www.amazon.com/dp/1976419727
Red Cross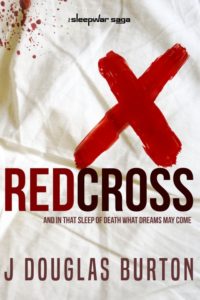 Book Two of The Sleepwar Saga
The nightmare begins again. 
Just when Andy thought it was safe to get back into bed, it happens again.  Plucked from the safety of his home, high school star quarterback Andy Flashman is thrown into a chase with deadly consequences.
The boy.  The boy with the powers.  If Andy and friends don't find him before the enemy does, it won't just be his life on the line.  He, Kaz, Jason, Meesha, Samir and Pegah must scour a creepy hospital every night until they find the boy.
No one is safe.
Red Cross, book 2 of J. Douglas Burton's "Sleepwar Saga" is tense, thrilling, and laugh-out-loud funny.  Don't miss out!
Excerpt
"He's running."  Jason was master of the obvious.  "Good sign, right?"
Or, of course, it could just be the natural reaction to seeing a group of older kids running fiercely right at you.  Andy knew how intimidating it could be on the football field when a throng of burly guys evaded the front line, blitzing him with furious intent on their helmeted faces.  Running was a natural response, all things considered.
Right at the end of the hall, the boy skidded around a sharp right turn, looking back like hell itself was on his tail.  Pegah, with her gymnastics training, was easily the first of the dream team to reach the same corner and she rounded it with a rapid slap of skin against tile.  Andy was not far behind her.
There wasn't much to see in this section of the hallway.  In actual fact, the 'bend' in the corridor turned out to be a T-junction, and if the little boy had gone the other way there was much more hospital to get lost in than Andy had suspected.  As luck would have it, though, the area he had actually headed into was short, a dead end just up ahead.
True, a gray door stood smack in the middle of the far wall, but the boy frantically pushed against it (there was no handle, just a small hole where one ought to be) to little effect.
Andy smiled, catching his breath, as he sauntered up to where the boy stood cowering.  Pegah had her hands outspread in a sign of non-violence before the kid, but his bright blue eyes were locked onto Andy's muscular form in obvious fear.
Trying not to sound or look too intimidating now, Andy murmured, "We ain't gonna hurt ya kid."
The other four teens came to a halt behind Andy finally, and he scowled as he realized how threatening they must seem, despite his calming words.  Crowded together in this more narrowly compressed section of hallway in front of the small, frightened boy.
"So," Jason drawled.  "Now what?"
Behind him, Kaz reached for a response.  "We didn't exactly get a full set of instructions."
"Yeah," Meesha agreed.  "We got the lad.  What's next?"
In front of Andy, the little boy steeled himself, drawing in a deep breath, then unexpectedly thrust out his hands as though pushing at an invisible wall.
The sound of rushing wind stirred up from nowhere, and Andy found himself suddenly caught up in a gale, blown off his feet to skid to the slick floor behind him.  He was used to being knocked on his ass on the football field, but turf was – generally speaking – a lot more forgiving than a solid floor.  Andy found his breath knocked right out of him, and felt a burn as a strip of exposed skin squeaked across the smooth but grimy floor.
None of the others in his group tumbled quite so hard, but they all were flattened against the wall.  The wind then abruptly stopped, leaving the little boy able to sprint anxiously past them as they gathered their wits.
"What the hell?" Meesha spluttered.
Almost gleefully, Samir said, "He's got super powers!"
If you enjoyed the post, please comment below.