Meet my guest Kate Coe and enter a world of Green Skies, magic, and electricity. She calls it SparkPunk.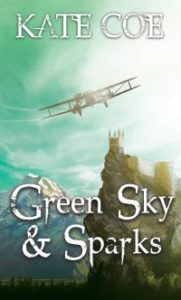 In a world of magic, wind, and electricity, Catter Jeck is offered the chance to explore a myth. Travelling from city to city, his search for the centre of the magic catches others in its coils. When the Lord Heir of Meton offers to continue the search in his flying machine, the consequences of their crash – and Toru's accidental link to a dying Healer – suddenly become of central importance to all of their lives.
Interview
Tell us a little about yourself?
I'm a jack-of-all-trades: I write fantasy, and I have a sparkpunk (Renaissance technology and electricity) novella series and various short stories published. I review books and blog about writing, crafty & geeky stuff and general life at writingandcoe.co.uk. I've previously been a librarian, web designer and super-efficient admin, and I wanted to be an archaeologist when I was little – I decided getting muddy wasn't my favourite occupation and went into books instead. I definitely read too much, and my aim in life is to spend more time baking.
2. What are you reading at the moment? Would you recommend it to readers of this blog? Why?
I'm reading three books for review on SFF World; two of them I wouldn't recommend (mostly they're just tedious), but I'm enjoying Djinn City by Saad Z Hossain – I'm only a chapter in, but the main character and writing style has gripped me! I'm also reading The Red Threads of Fortune by Jy Yang which is an interesting twist on standard fantasy with some really nice worldbuilding, and I just finished All Systems Red by Martha Wells, which I would highly recommend – sci-fi with a sarcastic & cynical AI and a fun plot.
3. Tell us something about how you write? i.e. are you a plotter or a pantser? Do you have any weird or necessary writing habits or rituals?
I have always been a pantser, starting from one scene or a snippet of dialogue and letting everything run from there. However, I seem to be slowly edging towards planning; I now sometimes plan outlines! I just can't do planning for details – I get bored – but I admit that having some idea of where the story might end is useful, even if it doesn't actually go there. I don't particularly have any weird rituals or writing habits; I write in a word document from the start, so I don't collect notebooks, and I can write pretty much anywhere – although my favourite place is at my desk, simply because I have fewer distractions.
4. Could you tell us a bit about your most recent book?
I'm actually on the final few books of the GreenSky series! Empty Skies & Sunlight, which is book 5 in the series, has just been published, and book 6 is waiting in the wings. I'm currently writing book 10, which is a heist-and-run plot and also brings in many of the characters from the rest of the series – so I've been enjoying revisiting them all!
5. Do you have a day job in addition to being a writer?  If so, what do you do during the day?
I'm a freelance editor, proofreader and formatter for Book Polishers. Sometimes it feels a little too close to my 'other job' of writing, but it does all require a very different set of skills. I do admin with a cup of tea first thing in the morning (along with checking social media, which – because I have a lot of writer friends – definitely blurs the line between work and social!) and then fit in whatever work I have scheduled, which could be formatting or proofreading, finishing a novella, or getting a short story ready for a deadline. I always try to go for a walk each day, and I do a second walk with a friend at 5.30pm, which is a nice way to 'finish' my work day – although I do often end up writing in the evenings.
6. If you could live in any period in the past or future, which would it be? Why?
I studied Roman history at university, and I've still got a major soft spot for the period, so it would definitely be the Roman Republic! I love the mix of personalities and politics, along with the sheer variety of the world. So far none of it has made it into a book, but I do wonder when that's going to come out in a novel…
7. If you could shift into any animal, which would you chose? Why? If you were going to be permanently changed into an animal? Would you still pick the same one? Why or why not?
Having owned cats, I'd definitely say a cat. Sleep where you want, wail at the humans until they feed you, demand scritches at inopportune times…what could be better? And if it was going to be permanent, exactly the same answer! The only downside of a cat seems to be the lack of opposable thumbs, which makes world domination difficult, but as long as there's a human around to open the tin of tuna I think it would be a wonderful life.
Excerpt
The room was filled with a sleek, elegant machine. The body of it was wooden with metal finishings, curved and polished, and stood on three short legs to keep it off the floor. Hung above the body, a wide swathe of canvas was swept back in a streamlined arc, pinned with wooden spars. It had an air of speed, even sitting in the shed, gleaming in the blue light.
"Isn't it beautiful?" Toru said cheerfully as Catter stopped, astonished. "Based on the eagles, with bits of all sorts thrown in. It's built of hollow metal for the frame, with wood for the rigs and double-thick fabric for the wings."
"Does it have a name?" Catter asked.
"I just call them the Fliyer. I stopped naming them after the third one. This is the sixth."
"Six? What happened to them?"
Toru looked embarrassed and then starting laughing. "Uh…the first one I didn't get the dimensions right, so it wouldn't fly. Cannibalised that for the second, which I made of wood – I wanted it to be as light as possible. That one did fly but it got hit in a thunderhead. I'd completely forgotten about it, but if something's in the air, it attracts the spark like the towers do."
Catter couldn't think of anything to say.
"I got a huge amount of spark straight through me and the Fliyer, and it came down in flames," Toru said after a moment with a sigh. "Managed to catch myself but I didn't catch the Fliyer – it came down on someone's house. Luckily they were all right, and I rebuilt it, but I still feel guilty." He managed to shrug it off. "The third one we built of metal, but we didn't get anything right. That one fell off the cliff."
"With you in it?" Catter sounded horrified.
"Of course – I did break my leg and a rib or three, but I heal fast. Luckily no one lives underneath the cliff, so that one didn't land on anyone's house. Fourth and fifth were modifications – they flew, but we're constantly changing the design. I think I've got everything how it needs to be for this one. Taken it out four times now, and I haven't had any problems with it. But I'm not sure how she'd cope without a Mage at the helm," Toru finished. "That's my next challenge. I want to build one that anyone can fly. This beauty is a lot more stable than my previous models!" He patted in fondly. "So if tomorrow's all right for weather, we'll head out in it. I hope you're not afraid of heights."
Catter looked at him. "No, Taderah doesn't bother me…but why are you taking me out in it? I mean, it's an honour, I'd love to, but…"
"Treloolir is somewhere in the Mountains," Toru said simply. "The lines point to it, and the map points to it. And the easiest way to see into those mountains is from above. I'll take you out for a few practise flights, and then we can take a day trip to see if we can see anything from the air."
About the Author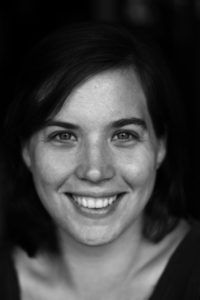 Kate Coe is an editor, book reviewer and writer of fiction & fantasy. She writes the sparkpunk GreenSky series and blogs at writingandcoe.co.uk. In real life she's an editor, and fills her spare time in between writing with web design, gaming, geeky cross-stitch and DIY (which may or may not involve destroying things). She also reads far fewer books that she would like to, but possibly more than she really has time for.
You can find her online at:
Blog: www.writingandcoe.co.uk
Facebook: https://www.facebook.com/KateCoeAuthor/
Twitter: @writingandcoe
Amazon: https://www.amazon.co.uk/Kate-Coe/e/B00ZF8J7TM/
Comment below on what you think.