KristaLyn and the Guardian Angels
Meet my guest today, KrisaLyn Vetovich, and you might just find your guardian angel while you're at it.
Interview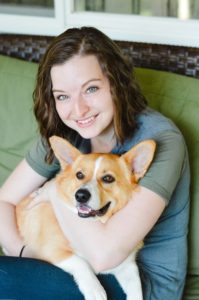 1. Tell us a little about yourself?
I'm just a dreamer from Pennsylvania who thinks the world can be saved one positive-thinking person at a time.  I've written six books now, with my latest series expected to release next year through Glass House Press, and one internationally published short story in the Tales from the Vatican Vaults anthology. I've got fantastic friends, a husband I'm pretty sure I dreamt up, the best family I could ever ask for—and the sassiest corgi you'll ever meet. Catch pictures of him on my Instagram Stories.
2. What made you want to become a writer?
I wrote for fun as a kid, first in notebooks, then saving stories on floppy disks (remember those?). When I finished my first substantial story, my dad read it and said, "You should publish this."
That book became a trilogy and more books followed. I just haven't stopped.
3. What are you reading at the moment? Would you recommend it to readers of this blog? Why?
I'm reading This Savage Song by VE Schwab right now. I would definitely recommend it. The writing is sharp, witty, easy to read, and the story is intriguing. I love the concepts. You'll have to read it to find out for yourself!
4. Do you think people have misconceptions about the speculative fiction? Why do you think it is a worthwhile genre?
I think there are some people who write it off too soon or before trying it. I love it because I live in the real world every day. Speculative fiction gives me a different world to explore and new ways to be a hero. I may even get an epiphany about changing my own world for the better while I'm at it.
5. Could you tell us a bit about your most recent book?
In Shifted, it's the end of the world and Anaya, a being from the afterlife, has been chosen as the spirit guide for the boy who might change everything. But will he listen to her, and choose free will and peace? Or will he side with her enemy… and condemn the world to chaos and domination?
6. What gives you inspiration for your book?
One day, I was thinking, "Man, if we have guardian angels, I wonder how hard it is for them to actually get through to us." Then the flood of ideas came, and here we are with the Prelude of the Reyn Gayst series!
7. What is the biggest surprise that you experienced after becoming a writer?
I try to prepare for everything, but I did not realize how much marketing writers do for themselves. Deluded young me thought there were magical people for that, but it's been a great experience learning how to connect with all sorts of different people. It's made me a better communicator and a more humble person. [Jamie's note: This was my biggest unpleasant surprise as well.]
8. If you could have dinner (and dessert) with any fictional character who would it be and why?
The Doctor (preferably the tenth, but any would be great). We could go literally anywhere, and I know the conversation would be fantastic.
9. If you could be transported to any fictional world, which would it be? Why?
Any world with fairies, as long as I could be one. I want wings more than an adult should admit! [Jamie's note: It would be so cool!]
Where can we find you online?
Blog: www.KristaLynAVetovich.com/blog
Website: www.KristaLynAVetovich.com
Facebook: www.facebook.com/authorkristalyn
Twitter: @AuthorKristaLyn
Amazon: https://www.amazon.com/KristaLyn-A.-Vetovich/e/B00IZ457AQ
Instagram: @AuthorKristaLyn
Excerpt from Shifted:
I know who we are. I know where we're going. I know how it all stops.
Since the dawn of conscious thought, there have been questions that withstood the test of time simply because the answers can't be found, though some fools tried:
It's crossed your mind, hasn't it? Of course, it has. I wondered about it a lot when I was like you. When I was alive.
I don't wonder anymore. I've lived and died so many times that I finally got it right. I dwell in Lemayle now. I know all the answers.
We live to learn. We die so that we can start over and learn some more. We live over and over until we know enough to choose between another age-old concept: good or not? We decide where we stand and we fight for it because the war isn't in living. It's waged in death.
When will the world end? Soon and dramatically. The Chosen One, the Reyn Gayst, has been sent. She's out there and she's brand new. Her choice will be the last one.
But let's not get ahead of ourselves. Every stage demands a setting.
I fight for good. I'm a Firn–a guide to living souls. It's my job to guide Kade Buxton, as I have guided so many others so that the Reyn Gayst makes her choice without bias.
Who is Kade Buxton and why does he matter? I don't have the patience to tell you. That's one virtue I never mastered in all my time spent in Velt, your world. Why don't I show you instead?
***
"Bring it in! You're gonna lose it!"
The waves crash against the boat. Rain falls like icy bullets, adding to the din of water splashing against the side. Kade struggles with the ropes. At this rate, the whole thing is going to capsize.
Kade is strong. As a kid fresh out of his teenage years, he should be. He winds the rope around his arm and yanks again, his father at his side. If the ropes don't snap, their muscles might, but the Buxtons are a stubborn breed.
The sea churns. The wind adds its strength, too. Here it comes–a strong gust.
The ropes rip from Kade's grip. The boat capsizes. The Buxtons go under.
The end.
Obviously not. That would make me a terrible Firn, wouldn't it? Don't worry. The boat is self-righting. The ropes are attached to a fishing net. Kade and his father are excellent swimmers. This is just a normal day for them. If Kade can't handle a simple capsizing boat, we are going to have issues when he finally lives out his purpose.
If you enjoyed the above, please comment below.