The Man From Rome Blog Tour
Read about an exciting new paranormal thriller and enter to win a $15 Amazon gift card below.

Rome is a city like no other, protected by a man like no other. He is the unnamed Immortal, the Man from Rome, and he is under attack.
An agent of his secret order has been murdered, her tongue ripped out, her throat coated in molten silver. The killing is meant to be a message, a warning that old enemies have resurfaced to punish the Man for the sins of his past.
Forced to retaliate, the Man sets in motion a sequence of events which pit an American thief, a Roman policewoman, and a fallen Olympian against one another in all-out war. The streets of Rome become a battleground where the supernatural clash with the mortal, and the Eternal City bears witness to yet another chapter in its storied history of violence.
Vengeance reigns supreme in this, the newest Novel from Dylan James Quarles.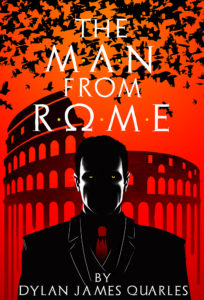 Excerpt
Light filtered in through the painters cloth, becoming diffused and shallow. As if in preparation for a slaughter, the floor was covered in newspaper, and the tables were draped with black plastic. Overhead, the light fixtures had been removed so that their wires dangled in stringy noose-like clumps.
Taking all of this in, Cato let the door swing shut behind him. The latch gave an audible click, and was instantly echoed by the snap of a Zippo lighter. Cato started with surprise and turned. In the far corner of the room, a candle had been lit, casting illumination upon a table laden with food. Already seated and waiting for him, a man in a three-piece chestnut suit smiled through the blue haze of his cigarette.
Cato blinked, and a pair of golden-eyes blinked back at him. Like memory made manifest, the Benefactor's unmistakable face came into view. Cato gaped.
"But—but—you look—"
Tapping his cigarette into an ashtray, the Benefactor held up a hand for silence. Cato faltered and the words died in his throat.
"Before you finish that sentence," spoke the Benefactor. "May I interject a simple request?"
Physically shaken by the timbre of the Man's voice, Cato did all that he could just to nod.
"I can see that you are…disturbed by me, Cato—disturbed by what you see. Yet I beg of you, please refrain from uttering that which I have heard more times than I care to remember. Spare history the doom of repetition."
About the author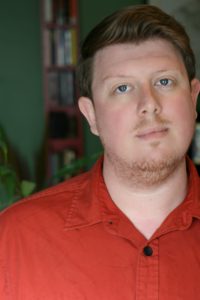 Arriving on the scene in 2012 with the publication of The Ruins Of Mars, Dylan James Quarles is one of Amazon's brightest Kindle Authors.
Using a his signature ability to make scenes come alive in your mind, Quarles immerses the reader in the world of his creation, adding layer upon layer until the narrative plays like a film. Further enriched by unique characters and breath-taking action sequences, his fiction is an ideal blend of entertainment and substance.
Quarles travels often, drawing inspiration for his work from Europe and South East Asia. His newest novel, The Man From Rome, is a direct product of his numerous visits to the Eternal City. Full of on-the-street detail, the novel packs an extra helping of Roman flare for the reader to enjoy!
Links:
Website – www.djqfiction.com
On Twitter – @dylanjquarles
On Facebook – @themanfromrome
The Man From Rome on Amazon – https://www.amazon.com/Man-Rome-Dylan-James-Quarles-ebook/dp/B06ZZHTXX1