The Oath: Maddy and Silenus
by Susan Badaracco
GENRE:   fantasy adventure
The book will be $.99 during the tour!!!!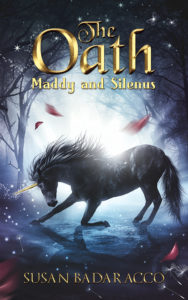 When her past merges with her present, Maddy is not sure what to think. Was that really an abduction she witnessed? Does she have the courage to find out?
Silenus is a unicorn haunted by his past failure to protect his charge. He trains relentlessly but is he fierce enough to protect this innocent? Will she even trust him?
Can a mortal and immortal pursue the truth together or will Maddy pay the ultimate price?
Interview
Tell us a little about yourself?
I'm a pediatrician. I spent my childhood bandaging up my friends and peering in a microscope that my grandmother bought for Christmas when she discovered my interest. Some students find it difficult to decide what field of medicine to choose, I did not. The day a toddler wandered out of an exam room, found me in a back office catching up on my note writing, and climbed in my lap…cinched it. They're worth it. The lost sleep, the missed holidays, the aggravations of searching for past records…it just doesn't matter when you walk in the room and see that flushed, glassy eyed kiddo with a fever.
2, What made you want to become a writer?
The kids. It all started as an idea for a fundraiser. The Children's Advocacy center needed donations, and I wanted to think of something different to generate funds. It's important. They work to convict sex offenders and provide counseling for the child victims. It's important because it they were not there, I would be taking down these children's stories, doing their sexual assault exams, finding resources for counseling. I would do it, but it would be the equivalent of jumping into the ocean to save a child when you can't swim yourself.
Oh, I was trained to do this type work, but there is no preparation for hearing the stories…in their young, innocent voices. You think your head will explode, and you don't sleep. But there are individuals suited for this type work, I've met them, and I want to support them.
So, I started writing the book and fell in love in the process. Spent so many years on the left side of my brain, almost forgot I had a right side. It's been great fun.
3. Do you think people have misconceptions about the speculative fiction? Why do you think it is a worthwhile genre?
I'm new to writing, but I believe that writing fiction is harder than writing a biography for instance. Creating  characters, writing dialog for them and providing settings… all pretty hard. Mixing in even more elements- magic, future technologies, imaginary languages and now your juggling even more details. It's slippery. You want to draw this reader into your world without overwhelming them (the great sin of information dumping).
We've all read books where you felt you tumbled into the foreign scene to quickly, got up feeling overwhelmed and ran for the door. Too much, you said, as you shut it firmly behind you. The misconceptions about this genre come from some past bad experiences.
But when you read a good example….like Harry Potter…it can change our entire culture.
4. Could you tell us a bit about your most recent book?
Maddy operates from her heart. She is scared, reluctant to get involved when girls disappear from a teen shelter. But she can't really help herself. Not after she befriends one of the girls that live there…
The unicorn who is charged to protect her, Silenus, is driven by his strict code of honor…but also his past failures. When he set out to defend his young charges, he didn't realize the implications when he was not successful. His sanity is on the line.
5. What gives you inspiration for your book?
I want to have this current that runs through my books that speaks to the strength of girls. The world can be challenging, we can work on changing that… but in the meantime…let's strengthen our children to prepare them for what's ahead. Give them codes of honor to live by. Remind them of the need for friendship, courage and responsibility. It's a little like brainwashing…but nicer.
6. What is your favorite writing tip or quote?
My love for writing took me a bit by surprise, so this quote seems appropriate-
"You will recognize your own path when you come upon it because you will suddenly have all the energy and imagination you will ever need." different websites credit different authors – it was either Jerry Gillies or Sara Teasdale.
7. Tell us a little about your plans for the future. Do you have any other books in the works?
I'm working on a second book in "The Oath" series. In contrast to Maddy's reluctance to get involved, Ashton can't wait to get in on the action!
I'm working on the book description….
Ashton thought life would be perfect once she got that new handbag.
Fashionable clothes, trendy shoes…she had everything a girl could dream about. Until that morning…when she has lost everything.
Now, Ashton desires only one thing….Revenge.
Egorn had his own reasons for vengeance.
He wants to punish those responsible for the annihilation of his family.
Orphaned when he was young, he trains relentlessly to become a unicorn warrior. Nothing else matters. Until that morning….when he realized that protecting her was more important than anything else.
Can a unicorn who has no fighting experience protect an innocent who has no concern for her own safety?
Excerpt
Mr. Sheldon turned slowly, releasing Allison from his grip. "Excuse me," he said softly, ominously, "what did you say?"
Maddy looked up, caught his menacing glare a moment before his face relaxed back into a more benign expression. Slowly, deliberately, he strolled back to the center of the room, placed his hands on his hips and tilted his head in mock confusion. Maddy's grip tightened on her notebook until her knuckles whitened. Her stomach rolled, churned.
It was as if all noise was sucked out of the room, as if all the surrounding white walls absorbed every acoustic and left the room as bereft of noise as it was of color. She opened her mouth to answer but snapped it shut again under his intense scrutiny. He nodded to himself and pressed his lips together in irritation.
About the Author
Susan Badaracco is the author and independent publisher of "The Oath: Maddy and Silenus".
In her real life, she is a pediatrician at Kids First Pediatrics where she routinely consoles anxious moms, retrieves interesting objects hidden in ears and laughs at made up knock-knock jokes.
She lives with her husband, a dog (ADHD is not limited to humans) and a cat. Her daughter and son both made the unfortunate decision to grow up which means she travels more than she used to.
Website: http://www.susanbadaracco.com/
Blog:  http://www.susanbadaracco.com/blog
Facebook: https://www.facebook.com/SusanBadaraccoWrites/
Book Buying Link:  https://www.amazon.com/Oath-Maddy-Silenus-Susan-Badaracco-ebook/dp/B075375HNB/ref=asap_bc?ie=UTF8

Giveaway
Susan Badaracco will be awarding a $20 Amazon or Barnes and Noble GC to a randomly drawn winner via rafflecopter during the tour.