Bull Riding Witch, Daulphina's introduction
I'm going to be out of town all week at a family reunion in Kentucky.  To keep you entertained while I'm gone and to get you excited for the release of The Bull Riding Witch on July 17, I will be posting a series of excerpts from the novel. Enjoy, and let me know what you think in the comments below.
The following scene comes from the very beginning, proving that waking up in a man's body will ruin any princess's morning.
Chapter 1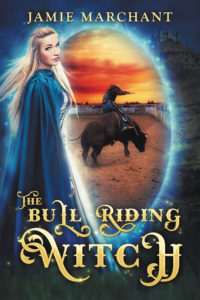 I woke with my head pounding and my tongue coated with the fur balls of ten thousand cats. I nearly gagged at the stench that filled the air, a scent that combined the reek of the inside of a knight's armor after jousting with the odor of rotting flesh.
Confused, I examined my surroundings. Hanging on the wall facing me was a portrait of a huge bull with its head down and its heels kicked high into the air. Incredibly, a man, holding onto a rope with only one hand, sat on the bull's back. Why would anyone ride a bull? Bulls were dangerous and impossible to control.
Piled high on the bedside table were plates covered with the remains of several meals, bowls with a few dregs of sour milk, and empty bottles. The sheet I laid on was stained with various substances I didn't want to identify. Where was I? This was certainly no place worthy of me, the crown princess. Maybe I had somehow ended in the servants' quarters, although I couldn't imagine how.
I tried to sit up, and my head felt as if it were going to split in two. I groaned, and the sound was deep and masculine. What the . . .? I looked down at my arms. They were muscular and covered with hair. I grabbed my naked chest. My breasts were entirely flat, and my chest was covered with thick, coarse hair. When I rubbed my hand across my face, I felt thick stubble. I looked down at the short clothes, which were the only thing I was wearing; there was a bulge that just shouldn't have been there. I lifted the waistband and peeked. Dear gods, how had I gotten one of those? I poked it with my finger, and it twitched. I snapped the waistband closed and jumped away, but I couldn't get away from the body I was wearing.
My breath came in dizzying gasps, and my pulse raced. This was just a dream, I told myself. It couldn't be real.
From the bed, I saw a small, closet-like room with a mirror on the wall. With my skull threatening to split apart, I stumbled out of bed and tripped over piles of dirty clothes that covered the floor. I pushed through them to the other room. In a mirror stained with water spots, a man stared back at me. Medium-height, broad shoulders, shoulder-length brown hair with brown eyes to match. A scar near the right eyebrow enhanced rather than detracted from the rugged good looks. It was a face that would have drawn a second glance, even from a princess, and one that would have sent my father calling for the guards.
But it wasn't mine. I grabbed the filthy porcelain basin underneath the mirror. How had this happened? Had I gone mad? "Think, Daulphina," I told myself. "There has to be a logical explanation."
The sound of knocking startled me, and a woman's voice called out, "Joshua, I know you're in there."
Thinking the woman might know something, I stumbled through the piles of clothes to the door and unlocked it. With her brown eyes and brown hair, the woman looked like a female version of the face I'd seen in the mirror. She was about my age, early twenties. What was more, she was wearing pants like a man and a tunic of an odd fashion. How was this possible? When I had complained about the ridiculous dresses a princess had to wear, my father had assured me that the gods would be displeased, that the sun and the moon would go out, indeed that the very universe would come to an end, if women adopted men's style of dress. Yet here was a woman dressed like a man who didn't seem to suffer as much as a hangnail.
The woman wrinkled her nose. "Whoo-ee, you smell like a distillery. Just what were you drinking last night?"
I put my head in my hands, certain it was going to fall off if I didn't. "How, how did this happen?"
The woman pushed past me and entered the room. "Good Lord, it stinks in here." She picked up an empty bottle. "Whiskey? You've been drinking Jack? I thought you only drank beer. Josh, you're not becoming an alcoholic, are you?"
I shook my head. This was a mistake because it made the pounding worse. "Please. Something's wrong. You've got to help me."
"Help you? What do you think I am? Your nanny?" she asked.
I remembered who she was. Her name was Jocelyn, and she was Joshua's cousin. Oh gods, how could I know that? I didn't know a Joshua!
"You haven't been answering your phone, and Meemaw sent me over here to find out why you didn't show up last night to your birthday party. All the family was there except the guest of honor."
None of this made sense, and the world whirled around me. I clutched the door frame to keep from fainting.
"You don't look so good," she said.
"I don't feel so good." I dropped to my knees and vomited down the wooden front steps. It felt like hot lava scouring the inside of my throat. I vomited and vomited until there was nothing left inside my stomach. I collapsed onto the floor, trembling.
Jocelyn rolled her eyes and squatted down beside me. "I don't care how hung over you are. Meemaw told me to come get you, and I'm getting you. Clean up first."
"No, this isn't real. None of this is real."
"Geez, Joshua, you stay away from the whiskey."
"I never drink whiskey," I said. "It's a man's drink." A princess only drank wine, nothing stronger. At least, that's what my father always said. It occurred to me, not for the first time, that if a person were to follow all my father's rules about what a princess should or shouldn't do, she'd be so restricted that she might as well be handcuffed, shackled, hog-tied, caged, paralyzed, thrown in the dungeon, buried alive, have her tongue ripped out, her hands cut off, and turned into a brainwashed vegetable. Yet, somehow my younger sister Jenna followed most of these rules.
Jocelyn looked at me strangely. "And what are you? A little boy? Into the shower with you." She helped me to my feet. I was too frightened to resist. She took me to the adjoining room, shoved me into a small, filthy stall—short clothes and all. She turned a knob. Warm water splashed down on me from overhead. I stared. How was that possible? Was magic heating the water? If so, who was working it? And who would expend magic for something so trivial?
"Don't you have any clean clothes?" Jocelyn shouted from the other room.
Trembling under the warm water, I didn't answer. How had I gotten here? How was it I was wearing a body that wasn't mine? How was it I remembered Joshua indeed had no clean clothes? "Here's a t-shirt and a pair of jeans that aren't too bad. I'll lay them on your bed. You've got ten minutes to get showered and out here, or I'm coming in after you. Don't make me see you naked again. Despite what people think about us Alabamians, I have no interest in marrying my cousin. I'll go hose off your trailer steps. At least you had the sense to throw up outside this time."