Follow the Prophet: The Mormon Church and Trumpism
Follow the prophet, follow the prophet,
Follow the prophet; don't go astray.
Follow the prophet, follow the prophet,
Follow the prophet; he knows the way.
This song is taught to children in primary (the Mormon auxiliary for children under the age of 12). I remember singing it myself and with my students, during my unfortunate stint as a primary teacher to the 11-year-olds. One of the main ways Mormons differ from other Christians is that they believe their founder, Joseph Smith, was called of God as a prophet in the same manner Abraham, Moses, and Isaiah were. Moreover, every president of the church since Joseph's time has similarly been a prophet of god with a direct link to God himself. The prophet tells Mormons what God wants them to hear today. While the Bible and other Mormon holy books tell of God's interactions with this people of the past, the prophet can deliver a direct message from God himself. At General Conference (held twice a year), the current president of the church is sustained as a prophet, seer, and revelator.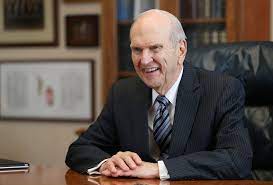 Current prophet is Russell M. Nelson (for some reason, Mormons always include the middle initial in the names of those in the church hierarchy). His appearance kind of reminds of Voldemort. Nelson was a celebrated heart surgeon who was appointed to The Quorum of the Twelve apostles by former prophet Spenser W. Kimball (the prophet of my youth), at a time he was falling into dementia. Nelson had operated on Kimball, and as Kimball started to lose his mental facilities he appointed both his doctor and his lawyer to be one of the fifteen men who lead the Mormon church. When the current prophet dies, he is replaced by the most senior member of the Quorum of the Twelve, meaning that by the time a man reached this position he is invariably old. Nelson is over 90. Among Ex-Mo's, Nelson is referred to irrelevantly as Rusty.
In processing my religious trauma caused by growing up in a cult, I've spent a good deal of time watching atheist YouTubers responding to sermons, religious books, and apologists. There is comfort in hearing from others who have deconverted, but many of the points they address don't line up exactly with the doctrine I was taught as a child because, as I said in my first post on Mormonism, Mormons are weird. As I considered what to write about today, I thought about doing a similar thing with one of the two speeches Rusty gave at the most recent General Conference, which was held just last weekend in Salt Lake City.
As a whole, his speech titled "Peacemakers Needed" presents a fairly good message. But there are subtleties and dog whistles throughout that the non-Mormon would miss. Today I'm going to go through the beginning portion of his speech, let me know in the comments if you'd be interested in hearing the rest of this speech analyzed. Although readership of this blog has gone up slightly since I started this, comments are rare, and I'd really appreciate hearing from you to help me decide what to cover next.
The words in italics are from Rusty's speech.
My dear brothers and sisters, it is a joy to be with you. During these past six months, you have been constantly on my mind and in my prayers. I pray that the Holy Ghost will communicate what the Lord wants you to hear as I speak to you now.
In every sermon I've heard from local leaders up through the top of the church hierarchy, listeners are always assured that the leader loves us, thinks and prays about us. Rusty's use of this technique is colder and less personal than they often are, most notably in that there is no mention of love. I don't mind this omission. During my long deconversion process, I found these "reassurances" insulting and condescending. None of these leaders knew me and what my challenges were, so how could they love or pray about me? It seems, and I believe it was meant to be, manipulative, as if hinting that they had special knowledge about us individually directly from God.
Mentioning the Holy Ghost as the communicator is also typical of Mormon sermons. Mormons don't believe in the trinity and see the Godhead as three separate beings. The Father and the Son have bodies, but the Holy Ghost hasn't received one yet so that he can testify to us spirit to spirit. We were told that if we ever doubted anything we heard in church or read in scripture, we should pray, and the Holy Ghost would let us know if it was true. I somehow missed the memo that there should be only one possible answer to such a prayer, a confirmation that it is true, and I had far more mixed results in the answers I believed I got, if I felt my prayer being answered at all. While Mormon doctrine on the prophet's infallibility is a bit convoluted and contradictory, most Mormons do see him as uncapable of being wrong, even though the prophets often contradict their predecessors. This near defying of the prophet is one of the things that makes Mormonism a cult. My unwillingness to simple "follow the prophet," as the song instructs, was seen as sigh of unrighteous pride, the few times I ever voiced it, so I tended to keep my thoughts on the matter to myself.
During my surgical internship many years ago, I assisted a surgeon who was amputating a leg filled with highly infectious gangrene. The operation was difficult. Then, to add to the tension, one of the team performed a task poorly, and the surgeon erupted in anger. In the middle of his tantrum, he threw his scalpel loaded with germs. It landed in my forearm! Everyone in the operating room-except the out-of-control surgeon-was horrified by this dangerous breach of surgical practice. Gratefully, I did not become infected. But this experience left a lasting impression on me. In that very hour, I promised myself that whatever happened in my operating room, I would never lose control of my emotions. I also vowed that day never to throw anything in anger-whether it be scalpels or words.
This part is the seemingly obligatory personal story that nearly every conference sermon contains. Like nearly all of such stories, I sincerely doubt that it is true. When I was a child, one of my favorite conference speakers was Paul H. Dunn (they love that middle initial) because he had better stories than most of them. He spoke about his time as a solider in World War II and his career as a professional baseball player. Dunn made his stories specific enough that they could and were fact checked by those unfriendly to the church. It turned out that his combat stories were completely fabricated, and he never played professional baseball. While most of the stories Mormon leaders tell don't include enough specific details that they can be proven lies, I suspect that vast majority of them are as fictional as Dunn's were. In this case, it seems hard to believe that a highly trained surgeon would act in such a dangerous and childish manner. But no conference sermon would be complete without a story.
Even now, decades later, I find myself wondering if the contaminated scalpel that landed in my arm was any more toxic than the venomous contention that infects our civic dialogue and too many personal relationships today. Civility and decency seem to have disappeared during this era of polarization and passionate disagreements. Vulgarity, faultfinding, and evil speaking of others are all too common. Too many pundits, politicians, entertainers, and other influencers throw insults constantly. I am greatly concerned that so many people seem to believe that it is completely acceptable to condemn, malign, and vilify anyone who does not agree with them. Many seem eager to damage another's reputation with pathetic and pithy barbs!
Starting with this part of his speech, I agree with much of what he has to say. As Americans, we have become increasingly divided and hostile toward each other. Political discussions on social media tend to quickly dissolve into toxic name calling. We can no longer simply disagree on the correct policy to address a problem. We must eviscerate our opponents. The other side isn't simply wrong. They are evil, and evil can't be compromised with.
But there is a subtext behind this speech that he doesn't directly address. The Mormon Church has a Trump problem. Mormons have cultivate right wing political policies for decades, and as they have attempted to become more mainstream, they have joined with other conservative churches to advance conservative political viewpoints. Proposition 8 in California passed largely due to the financing and activism of the Mormon church. It is rare to find a Mormon Democrat. My own parents claimed that my ancestors would roll over in their graves if their descendants ever voted for a Democrat. If this prediction was correct, they have been doing a lot of rolling over on my behalf. Mormons cultivate this monster, and now the monster is escaping their control.
While Mormons were slower to embrace Trump than Evangelicals, many have converted to the Trump cult. With this conversion, they have become as toxic as most Trumpists. I had a Facebook interaction with one of my aunts that demonstrates this. During Trump's presidency, I posted something on Facebook (I don't remember what) that was critical of Trump. My aunt responding in the public comments, asking me what had happened to me and told me that my parents would be disappointed and ashamed of my actions. I was shocked and hurt by the vehemence of her attack. This aunt was always my favorite aunt as a child. She is married to my father's youngest brother. Since I left Utah at 23 years old, I have had limited contact with her and basically none at all since my mother died 20 years ago. When I confronted her in a private message how hurt I was that she would use my father who died when I was barely 21 against me for a political point, she did apologize. But I still feel somewhat battered by the venom she directed at me for daring to express an anti-Trump opinion.
The problem that the Mormon church has is that Trumpism is also a cult, and as Matt. 6:24 says, "No man can serve two masters: for either he will hate the one, and love the other; or else he will hold to the one, and despise the other. Ye cannot serve God and mammon." You cannot serve both Rusty and Trump. When the Mormon church finally decided to push back against the anti-vaxxers by encouraging all members to get the Covid vaccination, Trumpist Mormons went nuts. They started to question whether the leaders of the Church had gone astray. It got ugly. It is hard to overemphasis how significant this reaction was. Questioning the prophet's words is something few believing Mormons would ever do, but when the Mormon church went against where Trumpists had gone, the membership question the church leadership instead of their political masters.
While the fervor over vaccination has died down, the infection of Trumpism remains in the church, leading to enormous difficulties for Church leadership. Like many religions, the Mormon church is bleeding membership, especially among the youth. Their conservative rhetoric on women and gay rights is alienating Generation Z, who are leaving in droves. Of course, the future of the Church depends on the keeping the youth, but they can't move to the left to accommodate the younger generation without losing the older generation (today's big tithe payers) to the Trump cult. And as Trumpism has poisoned all political discussion in this country, the venom directed at the church over vaccination is a sign of what would come if they ever dared to go against Trump on anything else. They are caught between a hemorrhage from the left and bleeding to death from the right. They have helped to create a monster they now can't control. This speech is, in my opinion, an attempt to calm this descension. I don't think it will work, and the church will continue to bleed membership from both directions. Its death will be slow since they have so much money they've been hoarding, but eventually they will bleed out.
The Mormon church has become a modern object lesson that if you create a monster, it will always turn against you. Decades of right leaning politics have helped to create the monster that is Trumpism, and now that monster is turning against its parent. I can't say I'll shed a lot of tears on their behalf.
Still, Rusty is right about how toxic our culture has become. If we don't learn again to disagree with hatred, we will tear this country apart between us. But how we will heal our divide or even if it is healable, I have no better answers than Rusty offers.
If you enjoyed this and would like me to discuss more of Rusty's speech or if you have other issues about Mormonism you'd like to see address, please comment below.