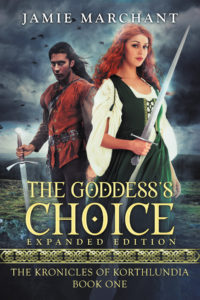 New Cover Design
Lou Harper has completed the design
of the new cover.
I think she did a beautiful job.
Release Date for
The Goddess's Choice
The Kronicles of Korthlundia, Book I
Expanded Edition
Coming June 15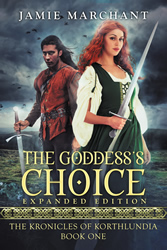 The Goddess's Choice was originally published by Reliquary Press in 2012. This expanded edition restores content I was forced to cut for length as well as freshens the prose.
In a world where the corrupt church hides the truth about magic, the fate of the joined kingdom falls on the shoulders of two young people from opposite ends of the social hierarchy.
Crown Princess Samantha's life begins to fall apart when she starts seeing strange colors around her potential suitors. She fears that she's going insane--or worse that she's defying the Goddess's will. Robrek is a lowly farmboy with incredible magical powers. He has been biding his time waiting to get revenge on those who call him a demon.
Thrown together by chance, they must overcome their differences to fight their common enemy Duke Argblutal, who, with dark magic, is slowly poisoning the king's mind and turning him against his own daughter.  Time is running out for those chosen by the Goddess to prevent the power mad duke from usurping the throne and plunging the joined kingdoms into civil war.