Genre: Fantasy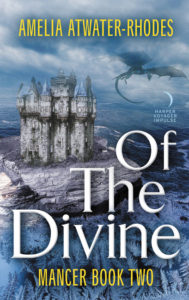 Henna is one of the most powerful sorcerers in the Order of Napthol, and her runes 's runes tell her that the future of Kavet is balanced on the edge of the knife. The treaties between Kavet and the dragon-like race known as the Osei have become intolerable. The time has come for the royal house to magically challenge Osei dominion. Prince Verte, Henna' lover, is to serve as the nexus for the powerful but dangerous spell, with Naples–an untested young sorcerer from the Order of Napthol–a volatile but critical support to its creation.
Amid these plans, Dahlia Indathrone's arrival in the city shouldn't matter. She has no magic and no royal lineage, and yet, Henna immediately knows Dahlia is important. She just can't see why.
As their lives intertwine, the four will learn that they are pawns in a larger game, one played by the forces of the Abyss and of the Numen—the infernal and the divine.
A game no mortal can ever hope to win.
Excerpt
The pride of Osei abruptly turned and dove. Serpentine bodies large enough to lift ships from the sea plummeted. They changed shape so close to the ground that the wind from their wings smacked the plaza like a hand, rattling or knocking over the light carts and tables the early morning merchants set up to display their wares. Henna squinted her eyes against the grit that smacked her face as the Osei landed with enough force to shatter their bodies had they been human.
People in the plaza scattered, scrambling away to hide in the shelter of surrounding buildings, but Henna couldn't make her muscles move as the Osei queen looked around speculatively.
The creature had skin like liquid silver and eyes like barbed steel. As she crossed the plaza directly toward Henna's frozen form, Henna recognized her. She was the only Osei queen who ever left her own territory to visit another Osei House.
The Queen of the First House, the Royal House of the Osei, was standing in the Kavet marketplace.
Henna felt all the blood drain from her face. Maybe farther. Was she bleeding onto the cobbles? Into the core of the earth?
"You know us," the queen said. "That is convenient. You will inform the rulers of this land that we require their immediate presence."
Interview
What are you reading at the moment? Would you recommend it to readers of this blog? Why?
Right now, I'm reading The Wise Man's Fear by Patrick Rothfuss, the second book in the Kingkiller Chronicles. Actually, I'm rereading it, though for the first time.
The first book, The Name of the Wind, was recommended to me by my best friend a couple years ago as his absolute favorite novel. I picked it up cautiously because I'm picky about fantasy novels. I enjoy character-driven stories more than world-driven ones (I'm cautious in fantasy circles about admitting I am not a Tolkien fan), and these two books have absolutely delivered on that promise. The only problem is the long lag between their publication dates (book 1 in 2007, 2 in 2011, a related novella in 2014, and book 3 announced but without a pub date) when I desperately want to read the end.
It's hard to describe this series. There is an over-arching evil antagonist in a way, as tends to be a theme in high fantasy, but they aren't really a key threat, at least through the first two books. It isn't even clear they know Kvothe, the main character, exists. Similarly, while Kvothe comes from a background of poverty and trauma, this isn't a book about "overcoming" disadvantages. The books are told in flashback, from a point of time where Kvothe is famous–or, more rightly, infamous–and has faked his death and is posing as an innkeeper, so the reader even knows more or less how the story ends.
So what is it about? It's about Kvothe. I have no idea how to summarize the plot, except to say I am finding it fascinating the second time around too. Part of why I am rereading is to try to see what makes this story so engaging.
2. Do you think people have misconceptions about the speculative fiction? Why do you think it is a worthwhile genre?
One of the novels I sometimes teach in my senior English class is Ray Bradbury's Fahrenheit 451. We read it in the context of its original creation, as well as in a more modern one, and one of the things we discuss is the nature of speculative fiction.
Many people think speculative fiction attempts to predict the future, but it doesn't. Oh, some aspects of technology and the like need to be predicted to try to make a realistic future, but those are the less important parts of the story. Speculative fiction takes a look at the real world, highlighting the good–and, particularly, the bad, the parts that make authors sweat at night and imagine disasters in the future.
Speculative fiction shows us what is possible and creates conversations not about some distant future, but about what is happening right now.
3. Could you tell us a bit about your most recent book?
Of the Divine is the second book in the Mancer trilogy. It's a prequel/sequel, by which I mean that it looks back 70 years before the events of the first book, but in doing so continues the storyline of a few key characters met in Mancer 1: Of the Abyss, and sets up events for Mancer 3: Of the Mortal Realm.
In Of the Divine, sorcery (which is punishable by death by the time of the first book) is still practiced freely, though its origin–and its costs–are not truly understood. The royal house is desperately trying to free the country of Kavet from the control of the Osei, dragon-like creatures who claim dominion over all the seas and therefore control all trade and travel to and from the island nation. Their efforts make use of magics that have the potential to control even the Osei– or to damage the veils between the mortal realm and the realms beyond, both infernal and divine.
4. What gives you inspiration for your book
Divine's inspiration comes from many places. After I wrote the first book, I had to stop to wonder how Kavet had become the way it was. Where did the fear of sorcery come from? I had also written partial side-stories that took place in other areas of the world, and couldn't help but wonder why Kavet was so isolationist and socially conservative compared to the rest of the world.
I also wanted to know more about some of the characters we met in Mancer 1. As I mentioned earlier, character are a central drive for me both as a reader and a writer. One of the characters, Naples, ended up being further inspired by a friend of mine who had a complicated life and has always been unlucky in love.
5. What is the biggest surprise that you experienced after becoming a writer?
I think the biggest surprise for me was that writing is not a solitary profession. I grew up on Stephen King stories, so my first idea of what a professional writer is like came from characters like Jack Torrance from The Shining or Thad Beaumont from The Dark Half. I imagined professional writers scratching away alone like the narrator of "The Raven" reading his books, detached from society.
In truth, good writing relies on others. The further I get in my career, the less I find I work alone. Beta readers are worth their weight in gold. As I tell my students, when you write something, you know exactly what you meant to say. You don't actually know what the reader hears unless you can find an excellent beta reader who is willing to share every thought that crosses their mind.
And of course, once a novel is published, it doesn't really come to life unless someone else picks it up. Readers who interact with me on Twitter or Instagram or Facebook make my day; they are the ones who inspire me to keep writing and publishing, despite… well, the answer to the next question.
Do you have a day job in addition to being a writer? If so, what do you do during the day?
I have a Master of Arts in teaching and am a full-time teacher at a special education private school for students with language-based learning disabilities. Mostly I teach English to high school seniors. I love my job, but like most teaching jobs it means about 80 hours of work a week.
And that still doesn't answer the question of what I do during the day! My daughter is almost three years old now, so we spend afternoons and much of our weekends doing puzzles, playing, biking, gardening, and otherwise having fun together. My parents and two sisters and my partner's parents all live in the area, so we also visit them frequently. Then there are silly little needs like grocery shopping and doing dishes and the like… (ah, who needs that?)
Considering all that, it can be challenging (and exhausting!) to squeeze in time to write, but writing has been my passion since I was about my daughter's age. I could never give it up.
Tell us a little about your plans for the future. Do you have any other books in the works?
Well, of course the third book in the Mancer trilogy, Of the Mortal Realm, comes out next year. I started the first draft of Mancer 1 in November, 2006 as my first attempt at National Novel Writing Month (a successful one), and it has been quite a journey getting it this far.
After Mortal, I'm not sure where I'm going. I have a few more books in my Young Adult series drafted, which I might go back to at some point. I also have a futuristic science fiction novel I wrote over the last three years, which I think will be good after I dedicate some serious time to revision. I may also stay in the world of the Mancer trilogy with a book I'm currently calling Ice House, which is narrated partly by two of the Osei and takes an in-depth look into their species and their culture, as well as looking into Kavet after the end of Mortal.
I suppose I'll need to make a decision soon, won't I?
About the Author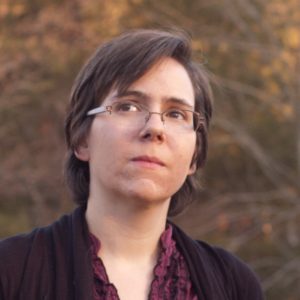 Amelia Atwater-Rhodes wrote her first novel, In the Forests of the Night, when she was 13 years old. Other books in the Den of Shadows series are Demon in My View, Shattered Mirror, Midnight Predator, all ALA Quick Picks for Young Adults. She has also published the five-volume series The Kiesha'ra: Hawksong, a School Library Journal Best Book of the Year and VOYA Best Science Fiction, Fantasy, and Horror List Selection; Snakecharm; Falcondance; Wolfcry; and Wyvernhail.
https://en.wikipedia.org/wiki/Amelia_Atwater-Rhodes
https://twitter.com/AtwaterRhodes
https://www.facebook.com/DenOfShadows/?ref=br_rs
Buy link:
https://www.amazon.com/Divine-Mancer-Book-Two-Trilogy-ebook/dp/B01N2JHW9X
Giveaway
Amelia Atwater-Rhodes will be awarding a limited edition print copy of the book *U.S. only* to a randomly drawn winner via rafflecopter during the tour.