Litha, the Summer Solstice
Being about half a Celt (Irish, Scottish, and Welsh ancestry), I've always been fascinated by Celtic culture and the druids; a religion based in nature is badly needed in our modern world. (The druid practice of human sacrifice is greatly debated by scholars. Many believe they only resorted to it when they came under extreme threat from the Saxon invasion.) Because of my fascination with the Celts, in my Kronciles of Korthlundia series, I looked to ancient Celtic traditions for inspiration. While I changed and adapted them for my purposes and by no means claim to have remained faithful to ancient tradition or their modern pagan adaptions, all the holidays in Korthlundia have a Celtic origin. Korthlundia has four major holidays throughout the year–Litha, Mabon, Solstice, and Ostara. Today, I start a series of posts dedicated to explaining how holidays are celebrated in Korthlundia, starting with Litha. To learn more about how the ancient Celts or modern pagans celebrate these holidays, this is a good site: Celtic Holidays.
Litha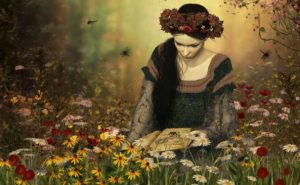 Litha is the summer solstice, a time to celebrate the fruitfulness of the earth. The people from nobles to peasant get together in groups to gather flowers, greenery, and wild herbs. They use them to decorate everything from the shrines, the palace, shops, their homes, and even themselves. The night is spent in dancing. They attend the temple or shrines "celebrate her [the goddess's] blessings, purify our hearts, and express our faith in the promise of the harvest to come."  They are cleansed with the water of new life and partake of the first fruits of summer. In the capital of Murtaghan the festival is even more majestic with flowers decorating the streets and even baked into the pastries. Vendors and street performers fill the streets, and at midday everyone gathers in the city square where the crown princess blesses the community garden as "a sign of [the goddess's] blessings upon this land and this people." The night is spent in dancing.