ALL ABOUT THE #RRBC SPONSORS BLOG HOP!
Welcome to the first ever ALL ABOUT THE SPONSORS BLOG HOP!  These kind members of the RAVE REVIEWS BOOK CLUB (RRBC) donated their support during the 2017 conference, in the way of gift card and Kindle e-book donations for our Gift Basket Raffle. They supported us and now we are showing our support of them by pushing their book(s).  
We ask that you pick up a copy of the title listed and after reading it, leave a review.  There are several books on tour today, so please visit the HOP'S main page to follow along.  
Also, for 
every comment
 that you leave along this tour, including on the 
HOP'S main page
, your name will be entered into a drawing for an 
Amazon gift card 
to be awarded at the end of the tour!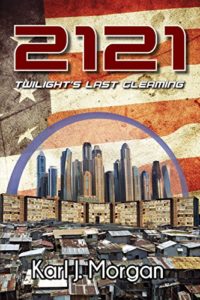 ​2121: TWILIGHT'S LAST GLEAMING​
Author:  ​Karl Morgan​
Welcome to the year 2121. Unfortunately, things have not gone well for the United States of America over the last century. The government's desire for more power and money has left the country bankrupt and dragged most of the industrial world down with it. Wealth and safety are now the property of the political class and their rich and entitled donors. They live in splendid city centers covered with domes for protection from the elements and the poverty-stricken rest of the population.
Economic collapse has changed the cities into vast stretches of run-down tenements and filthy factory districts. Those who cannot work try to survive in the massive slums that stretch from the tenements to the walls that surround the major cities. Outside those walls, gang armies and terrorists wage war, even infiltrating the cities to grow their power.
Farming communities build walls around their towns for protection as they tend their crops for eventual sale to the cities. While adults operate the major equipment, their teenage children guard the fields and tractors with rifles. At Co-op M-125 in southeastern Iowa, we meet fourteen year-old Jack Kennedy. Far from the propaganda and filth of the cities, he is learning the truth about his country while enjoying a life that seems almost normal.