Cassandra Fear, Demon Hunter
Welcome today's guest, Cassandra Fear, and enter the world of demons and angels.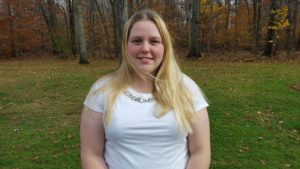 Cassandra Fear lives in Ohio with her husband, two kids and two dogs. Hiking, taking care of her fish tank and reading are her favorite hobbies. She loves chocolate, hates driving in the snow, and could eat macaroni and cheese every day. In her spare time, she loves to write and has always dreamed of becoming an author. Her dreams will become reality with her first book, Above the Flames.
Interview
Tell us a little about yourself?
I love to write, of course, and read, but I am a mom of two and a wife of thirteen years. I have two dogs and a cat and a mortgage. Underneath the books, I am just an ordinary person trying to put my stamp on the world, one book at a time.
2. What made you want to become a writer?
I have always been a writer. In high school my teachers used to yell at me when I turned my essays in and say, "This is not creative writing class." I knew then and there I wanted to write, but life got in the way for a while.
3. What are you reading at the moment? Would you recommend it to readers of this blog? Why?
I am devouring everything from Sarah J Maas and definitely recommend.
4. Could you tell us a bit about your most recent book?
I would like to share with you Above the Flames, which is the first book I wrote. It follows the story of Jasmine Reynolds as she finds out what has always made her different from everyone else actually has the ability to stop the demons from taking over her world. She goes through obstacle after obstacle and has a hard time finding who she is, but eventually she does. If you like demons and angels, this book is an exciting adventure into their world.
5. If you could have dinner (and dessert) with any fictional character who would it be and why?
Elizabeth Bennet from Pride and Prejudice. For one, I always wanted to visit the English countryside, and for two, I would love to see what she would wear in this day and age. Haha.
6. Titles have always been extremely difficult for me. How do you come up with yours?
I have a hard time with them too, but I had the titles for all three books in The Flames Trilogy before I even wrote one word. It is crazy how that happens sometimes. I usually brainstorm with my friends until I find the perfect title.
Where can we find you online? (please cut and paste links):
Blog: www.writingforwords.wordpress.com and www.cassandrafear.com
Website: www.cassandrafear.com
Facebook: www.facebook.com/cassandrafearauthor
Twitter: www.twitter.com/CassieFear
Amazon: https://www.amazon.com/Cassandra-Fear/e/B01DR0T4FQ/
Instagram: @cfear_27
Above the Flames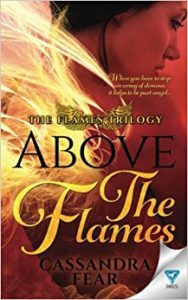 Jasmine's sixteenth birthday was the worst ever…
All in one day, her dad died, she met a demon, and her mother rejected her existence forever. After all, the demon who killed her dad was there to take her, and all because of her stupid powers—the ability to conjure blue flames.
Two years later, she's happy. But happy never lasts…
After moving to Idaho to live with her grandparents, Jasmine has a new life. Almost nobody knows about her powers, and she's just a normal teenager with normal problems. Then comes her eighteenth birthday—and the earthquake that changes her world forever.
An army of demons rise from Hell. And Jasmine is right in the middle of the battle…
When demons claw their way to Earth, Jasmine is surrounded by hundreds of fire-eyed beasts. Worse, she is captured by a big-shot demon named Bael. He's a tricky foe with a chip on his shoulder—and the desire to make Jasmine use her powers for evil.
Amon is a fallen angel with an attitude—and everything to lose.
Successfully escaping the underworld undetected, Amon is on a quest to regain God's grace when he rescues Jasmine from the clutches of a particularly nasty demon he knows all too well. The attraction between him and the not-entirely-human captive is instantaneous. Heavenly sparks fly, but ideas of romance will have to wait. First they have to stop the demon race from wiping out the mortal realm. Humanity's fate rests in their hands.
Can two fallen angels rise above the flames to ensure a future for mankind? Or will Jasmine and Amon's souls be bound together—in hell?
Excerpt
She continued toward the sidewalk, taking in all the small shops that lined Main Street. Each side looked the same. Blood splatters. Broken windows. Glass sprinkling the street. She saw another body sprawled face down on the sidewalk, a puddle of crimson soaking into the concrete, turning dark brown. It seemed like she was walking through a haunted house, not the town she fell in love with.
Jasmine covered her mouth and she gasped as she passed Mr. Gregory's barber shop, where Pa always got his hair cut. Mr. Gregory sat with his back to the wall in the doorway; his neck cut open and red streams flowing down it.
Footsteps pounded the asphalt behind her, and she knew the others had joined her, but it didn't register. She rushed to the barbershop and grabbed the barber's wrist, checked for a pulse, and let his dead arm fall to the ground. It landed with a thud that echoed off the walls in the small entrance. She cringed at the sight of blood coating his skin. Her stomach roiled and she stepped backward until she slammed into the wall behind. She turned her head, not wanting to see what lay before her.
Caim came forward and crouched down next to the body. "His body's still warm. They can't be far."
"Everyone stay close. We don't know what we are walking into," Lamia said quietly but firmly.
Jasmine walked forward mechanically, and Beau matched her pace. She took steps, one after the other, like a zombie. Trash littered the sidewalks. Glass shards crunched under her feet as she followed Caim. The coppery smell of blood filled her senses. Dead bodies surrounded her. So many bodies.
Her voice shook. "Is there anyone left alive?"
If Cassandra has piqued your interest, tell us in the comments. Book can be purchased here: