Juliana Spink Mills Hunts with a Blade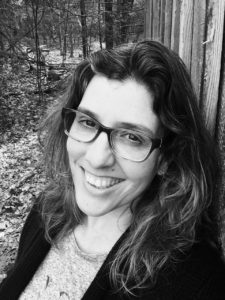 My guest today is science fiction/fantasy author, Juliana Spink Mills, here to tell you about her exciting novel.
Juliana was born in England but grew up in Brazil. Now she lives in Connecticut, USA, with her husband and two kids, and writes science fiction and fantasy. She has a soft spot for stories with explosions and fight scenes, tempered with moonlight kisses. She watches way too many TV shows and loves to get lost in a good book. Her dream is to move to Narnia when she grows up. Or possibly Middle-Earth, if she's allowed a very small dragon of her own.
Interview
Tell us something about how you write? i.e. are you a plotter or a pantser? Do you have any weird or necessary writing habits or rituals?
Hmm, plotter or pantser…? I think I'm a little bit of both. When I first started writing, I used to obsessively plot every inch of a novel – this worked as a 'safety net' of sorts. I knew that as long as I stuck to my road map, I'd get to the end. Rigid outlines were a great learning tool for me. Over time, I've relaxed, and now I use more of a 'connect the dots' system, with main plot points set out before I start, but wriggle room to go 'off road' when and where I want.
As for writing habits, I'm pretty easy. I don't have a desk – I prefer to spread out at the kitchen table. And I can't work with music on; I find it distracting. [Jamie's note: Me, too.] However, I've learned by necessity to tune out my kids, though I prefer to work in the mornings when they're at school.
2. Do you think people have misconceptions about speculative fiction? Why do you think it is a worthwhile genre?
I think a lot of people steer clear of the speculative fiction section of their bookstore or library thinking they won't be able to relate. But elves, orcs, and laser-wielding space lords aside, you'll find the same things in science fiction and fantasy that you'll find in other genres: adventure, action, romance, intrigue… And new readers don't need to jump straight into the deep end with epic fantasy or hard sci fi; they can start with something like space opera, urban fantasy, or paranormal romance – look how popular Charlaine Harris' Sookie Stackhouse novels are and not just with genre fans.
Personally, I love SF/F for the sheer escapism. I love to dive into someone else's made up world and make it my own, even for just a short while.
3. Could you tell us a bit about your most recent book?
My young adult urban fantasy novel Heart Blade is the first book in the Blade Hunt Chronicles, a series that follows a centuries-old prophecy about four legendary swords. The story is set in present day USA, where preternatural creatures like vampires, werewolves, and witches live among the unsuspecting humans, governed by a failing and corrupt Court of the Covenant.
4. Of all the characters you have created, which is your favorite and why?
I have a soft spot for my half-demon Camille. She's a petite French Canadian succubus, and she's surprisingly fierce and extremely levelheaded and an absolute pleasure to write. Camille lives to surprise, as everyone tends to underestimate her.
5. What is the biggest surprise that you experienced after becoming a writer?
I was surprised and delighted to find out how welcoming and supportive the writing community is – both the SF/F community and the kid lit world. I've made amazing friends over the years. Some are virtual friends I've connected with on social media or on forums I belong to and others I met at conventions and conferences. My writing pals keep me going when things get tough and cheer me on when good things happen. I couldn't do this without them. [Jamie's note: Other writers are the best.]
6. Tell us a little about your plans for the future.  Do you have any other books in the works?
Yes! Definitely! I'm putting the finishing touches on Night Blade, Book 2 of the Blade Hunt Chronicles, which will be out later this year. I have a couple of short stories I'm working on for anthologies, and I have a sci fi thriller in the early stages. After all that is out of the way, I'll be ready to move onto the third Blade Hunt book, Star Blade.
7. If you could be transported to any fictional world, which would it be? Why?
Tough question! Perhaps Cinda Williams Chima's Seven Realms – her fantasy novels are so beautiful! All valleys and soaring mountains. Or Myke Cole's present-day world with added magic, in his Shadow Ops military fantasy trilogy – that would be an interesting reality to visit. I also love the setting for Elspeth Cooper's Wild Hunt quartet, with its vast, sprawling lands.
Where can we find you online?
Website: https://jspinkmills.com
Facebook: https://www.facebook.com/jspinkmills
Twitter: https://twitter.com/JSpinkMills
Instagram: https://www.instagram.com/jspinkmills/
Amazon: http://hyperurl.co/9ufdbj
Goodreads: https://www.goodreads.com/book/show/33868453-heart-blade
Heart Blade, Book 1 of the Blade Hunt Chronicles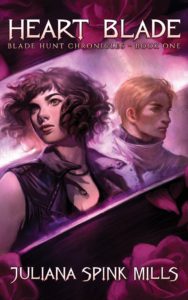 Teenage half-demon Del Raven wears a promise in scarred letters upon her skin. Now, pressured to make her first kill and seal her demon nature forever, she flees her pack and forges a dangerous partnership with young angel-blood Ash.
But Del isn't the only one on the run from the demons. For seventeen years the Guild of Saint Peter has done its best to hide orphan Rose, a key player in the centuries-old Heart Blade prophecy.
The threads tangle, and soon Del, Ash and Rose find themselves in the crosshairs of an ancient war between demons and angels…and the hunt for a mythical weapon that could change the balance of power forever.
Excerpt
The SUV rocketed along the dirt track, right on the motorbike's tail. The surrounding trees were a dark blur in the night, lit only by their headlights. Ash realized he was holding his breath, and let it out in one big exhale. Becca heard and chuckled.
"Apprentices," she said, shaking her head. "So darn cute. Hey, don't worry, kid. We're in good hands. Your old man's the best in the business. You don't get to be Scion of the New England Chapter of sentinels for nothing."
Ash would have protested, said he wasn't worried, but it would have been a lie. Becca would have known; they all would. You couldn't lie to a sentinel. Instead he gritted his teeth and tugged at his bulletproof vest. The borrowed body armor he wore was too tight across his shoulders. His whole chest felt too tight.
Becca drew closer to the stuttering motorbike, still trailing acrid clouds of smoke. The trees opened suddenly into a vista of dark fields, and Becca accelerated, throwing the car off the road. They ripped through the tall grass, stems slashing viciously at the sides of the SUV.
There was a sudden impression of approaching buildings, and then the side of the SUV hit the bike hard. The bike went down in a tumbling crash, the engine's growl cutting out abruptly as the vampire fell head over heels to land on his back. The SUV skidded to a stop, high beams raking the black. The vampire scrambled to his feet and took off, Deacon in pursuit with his sword over his shoulder as Ash leaned over his cousin to watch.
Becca snagged her hunting rifle from the back of the car and turned to Ash and Jordan, still inside. "Well? You here to learn, or what?"
If you like what you've read, please comment below, or click the link to buy Juliana's book.