GENRE: Sci-fi/Fantasy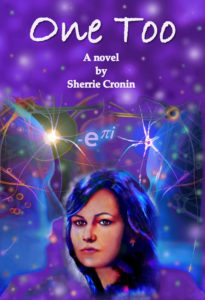 Telepathy creates as many problems as it solves, as most of the members of the secret organization x0 would admit. When new member Lola discovers another group of telepaths with a completely different approach, those problems multiply at the speed of thought.
Soon, Lola's family and friends are in danger. Lucky for her, she's not your average budding psychic. Each person with whom she is close has a special gift of their own. That's good, because it's going to take every power they possess to keep this other group from succeeding with their plan to eradicate x0.
Excerpt
As soon as Ariel heard her mother's voice, she knew that it was a bad time for a phone call.
"Honey, I'm in the cell lot at the airport, waiting to pick up Zane. Is everything okay?"
"It's fine mom."
"Good. I'm here with Teddie and Xuha in the car, and Zane's going to text us any second, once he's gotten his bag. There's a ton of traffic. Talk later?"
"This is quick. I'm bringing two people with me to Houston, mom, to join us for Christmas."
"You're what??"
Then, with less irritation.
"Wait, is one of them this young man you went to Turkey with?"
"I wish. These are two friends of mine from Ireland, mom, and it's kind of long story."
Lola took a breath and reached out to her daughter. She got that Ariel wasn't particularly happy about this either. She got that Ariel felt bad about springing it on her parents. She got that these two would not be dissuaded from coming. And she got that they, too, had abilities that could be useful in the days ahead.
"Right."
"Did you just read my mind, mom?"
"An emergency decision, dear. This is not good timing for guests, as you well know, but we'll make the best of the situation. When do you get here?"
"We'll be there Friday."
"You do know that Teddie has people coming too, right? c3 people. They get here on Tuesday."
"It's all going to be okay mom."
"Are you telling me that as a psychic, or as my daughter?"
Lola heard Ariel laugh.
"Just as your daughter, mom. Our futures over the next couple months could not be more confusing. Maybe there will be more clarity once I get there. I hope so."
The phone bleeped with a text message. Lola said a quick goodbye as she made her way into in the mass of cars trying to pick up holiday travelers.
She did her best to avoid those pulling in and out of parking and those loading overstuffed luggage into car trunks, sucking in her breath and hitting her brakes as a small child darted out in front of her. A traffic cop whistled and motioned at her to keep moving. Where the hell was Zane? He had clearly texted her, but now he was nowhere to be seen.
"Do you see Zane?"
"No," Teddie said. "But I see Xuha."
"Of course, dear. That is not helpful. Look outside the car, please."
"I am, mom. I see Xuha standing over there on the curb."
Lola squinted where Teddie was pointing. A young man wearing Zane's jacket but looking remarkably like a taller Xuha was waving at them with a pleased grin on his face.
"Oh for God's sake," Lola muttered. "This is no time for comedy."
Xuha stared at his double for a second, a strange look on his face. Then he broke into a grin of his own as he jumped out of the car to help Zane with his bag. The two of them climbed into the back seat laughing. Zane's features quickly dissolved into his own.
"Thought I'd start my visit off with some of that absolute honesty you've been insisting on, mom," he said. "Might as well have some fun, right?"
"Can you do me?" Teddie asked.
"Of course, but it'd be better with a wig. You'd be surprised how much difference hair makes."
Lola glanced in the rearview mirror as Zane began to resemble Teddie.
"Would you like to be bright pink?" he asked.
"Oh please! No wait, lime green."
"Sorry, I can't do colors I don't have pigments for," he explained. "You'll like the pink, trust me."
Lola heard Teddie squeal with delight.
"This could be the longest Christmas holiday ever," Lola muttered, as she merged onto the highway that led home.
About the Author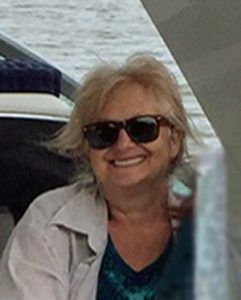 Sherrie grew up in Western Kansas thinking that there was no place in the universe more fascinating than outer space. After her mother vetoed astronaut as a career ambition, she went on to study journalism and physics in hopes of becoming a science writer.
She published her first science fiction short story long ago, and then waited a lot of tables while she looked for inspiration for the next story. When it finally came,  it declared to her that it had to be whole book, nothing less. One night, while digesting this disturbing piece of news, she drank way too many shots of ouzo with her boyfriend. She woke up thirty-one years later demanding to know what was going on.
The boyfriend, who she had apparently long since married, asked her to calm down and  explained that in a fit of practicality she had gone back to school and gotten a degree in geophysics and had spent the last 28 years interpreting seismic data in the oil industry. The good news, according to Mr. Cronin, was that she had found it at least mildly entertaining and ridiculously well-paying  The bad news was that the two of them had still managed to spend almost all of the money.
Apparently she was now Mrs. Cronin, and the further good news was that they had produced three wonderful children whom they loved dearly, even though to be honest that is where a lot of the money had gone. Even better news was that Mr. Cronin  turned out to be a warm-hearted, encouraging sort who was happy to see her awake and ready to write. "It's about time," were his exact words.
Sherrie Cronin discovered that over the ensuing decades Sally Ride had already managed to become the first woman in space and apparently had done a fine job of it. No one, however, had written the book that had been in Sherrie's head for decades. The only problem was, the book informed her sternly that it had now grown into a six book collection. Sherrie decided that she better start writing it before it got any longer. She's been wide awake ever since, and writing away.
Author Social Media Links
Twitter: @cinnabar01
Facebook: www.facebook.com/Number46Ascending
Goodreads: www.goodreads.com/author/show/5805814.Sherrie_Cronin
Amazon: www.amazon.com/Sherrie-Cronin/e/B007FRMO9Q
Blog: 46ascending.org/
Book is available for pre-order for $2.99
https://www.amazon.com/One-Too-Ascending-Sherrie-Cronin-ebook/dp/B077NYTNSJ
https://www.barnesandnoble.com/w/one-too-sherrie-cronin/1127552938
https://www.kobo.com/us/en/ebook/one-too
Giveaway
Sherrie will be awarding a $25 Amazon or B/N GC to a randomly drawn winner via rafflecopter during the tour.