The Chaos Stories Book Tour

GENRE: Supernatural/Fantasy/Sci-Fi
Read about an exciting new collections of stories and enter to win a $15 Amazon gift card below.
The Chaos Story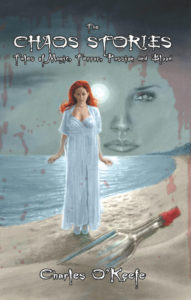 Here you'll find nine new short-stories, some which have been from my life, or things that could have happened. One is inspired from the many games of Dungeons and Dragons I've played over twenty years while another is from the Call of Cthulhu role-playing game. Some are even some from other authors, who kindly contributed to my collection.
As a treat for fans of my series, I have included six deleted chapters, two from each of the three Newfoundland Vampire novels, which have been all cleaned up and have been made better than ever for your reading pleasure.
I have also included not one, but two chapters from the upcoming fourth book in the Newfoundland Vampire series, War of the Fangs. I've filled this collection with tales that will make you laugh, or will scare you, and will hopefully make you think a little about the world around us and the people in it.
Inteview
Tell us a little about yourself?
I'm 41, married, no kids, agnostic, a huge geek, a friendly guy and a writer. I'd like to say I write full-time for a living, but that would be a lie; my brother and I co-own a beauty business (where my wife and sister-in-law also work). I love to write, read (comics mainly, I listen to novels these days), play Dungeons and Dragons, play Poker, do Pilates, walk, go to movies, watch Netflix (and a few other TV shows), go to restaurants, travel and occasionally play board games and hang out with friends. I do what I can to look after the environment (plant trees, drive a hybrid, carpool, recycle, use less energy) and try to help those less fortunate than me.
2. What are your biggest literary influences? Favorite authors and why?
I am heavily influenced by a few authors including Anne Rice, Stephen King, Ernest Hemingway and Richard Matheson. Anne Rice (despite her later books turning to crap) did some amazing work with "Interview with the Vampire" and "The Vampire Lestat." [Jamie's note: She fired her editor, making an excellent case for why you should never fire your editor.] Even in the later vampire chronicles books she does an amazing job when she writes about a vampire on the hunt. Stephen King is, of course, the master of horror, I think any writer should strive towards some of the masterful writing and the great character building he has done.  IF you've never read his memoir "Stephen King on Writing" (which also has lots of writing tips), you're really missing out.
3. What are you reading at the moment? Would you recommend it to readers of this blog? Why?
Right now I'm reading (well technically listening, I love Audible) to Hell House by Richard Matheson. Yes, I would recommend it to your readers; it's a good horror book so far. While it's a slow burn at the beginning, it has some really cool/scary scenes, excellent characters and does a great job of making you wonder whether ghosts are real or if it can all be explained by science.
4. Could you tell us a bit about your most recent book?
My latest book is called The Chaos Stories: Tales of Magic, Terror, Passion and Blood, and it's collection of short-stories and deleted chapters from my "Newfoundland Vampire" series. I'm also part of an author group (look for us on Facebook "Four Phoenixes Publishing") and have offering from three other writers. The stories range from horror to fantasy, sci-fi and just plain fiction. I don't shy away from issues and tackle drunk driving in two stories, Trump in another and another features a gay couple, which isn't an issue for me ,and I write it that way. I also had lots of fun basing two of the stories on the many years I've spent role-playing (Dungeons and Dragons and Call of Chthulhu).
5. Tell us a little about your plans for the future. Do you have any other books in the works?
I just submitted a short-story to a local collection coming out next year; hopefully, I make the cut. I have my next book half-written, which is my fourth vampire book (and possibly my last). After book four of The Newfoundland Vampire, I will probably put out another collection of short-stories as I really enjoyed doing this one.
Thank you so much for having me on your blog and being part of my tour, great questions, they were fun!
Excerpt
When he opened his eyes   he noticed a red glow to her spine.  WTF!  Steve was too stunned to speak.  The red glow faded as he almost fell off the bed.  Angela kissed his neck, snuggling beside him, not noticing his dismay or wide open mouth.  Finally he summoned the courage to speak.
"Your spine glowed red.  Is there something I need to know about you?"
"Oh come now, you didn't know?  Why do you think I loved your Battlestar shirt so much?  Didn't you notice I look just like Cylon Number Six?  Sure you did.  Disney wanted to test me out on one of its tech geeks.  You got lucky.  So, I was good?"
"You're a Cylon?  Does that mean we're starting a whole new race?"
"No silly," answered Angela, slapping Steve playfully.  "It means the bosses finally granted you a promotion.  You'll be featured as the main exhibit at the new Disney theme park.  It's quite an honor being bestowed upon you.  I hope you fully appreciate the confidence Disney has in your work. "
Realizing the full extent of his situation, Steve made a break for the door.  Too late.  Angela was on him, wielding handcuffs as she slammed him to the floor.
"This is kinky," commented Angela as she slapped on the bracelets.
Angela dragged Steve by his hair, still naked, to a waiting van outside, where Daffy Duck and Pluto robots drove him away to his new Disney adventure.
About the Author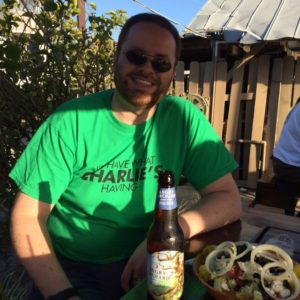 Charles O'Keefe lives in the beautiful province of Newfoundland, Canada, with his wife and two feline 'children,' Jude and Eleanor. He is a part-owner of a beauty wholesale business. He enjoys many hobbies and activities that include reading, gaming, poker, Pilates, Dungeons and Dragons, and of course, fantasizing about vampires. Charles is the author of three books in the Newfoundland Vampire series, but this is his first collection of short-stories. Look for the fourth Newfoundland Vampire book sometime in the near future.
To find out more about Charles or his other books, go to Twitter and Facebook or visit his web site at http://www.charlesokeefe.com
Twitter: https://twitter.com/TheNLVampire
Facebook: https://www.facebook.com/charles.okeefe.75
Amazon: https://www.amazon.com/Chaos-Stories-Tales-Terror-Passion/dp/1775046508/
Smashwords: https://www.smashwords.com/books/view/739546
Barnes & Noble: https://www.barnesandnoble.com/w/the-chaos-stories-charles-okeefe/1126899838
Giveaway