The Witch and the Crackpot
Continuing with my series of excerpts from The Bull Riding Witch, below is Daulphina's first meeting with Uncle Gilly, local crackpot and the only one who will believe her that she isn't really the man whose body she wears.  The Bull Riding Witch will be released on July 17 and will be only $.99 only as a release day special.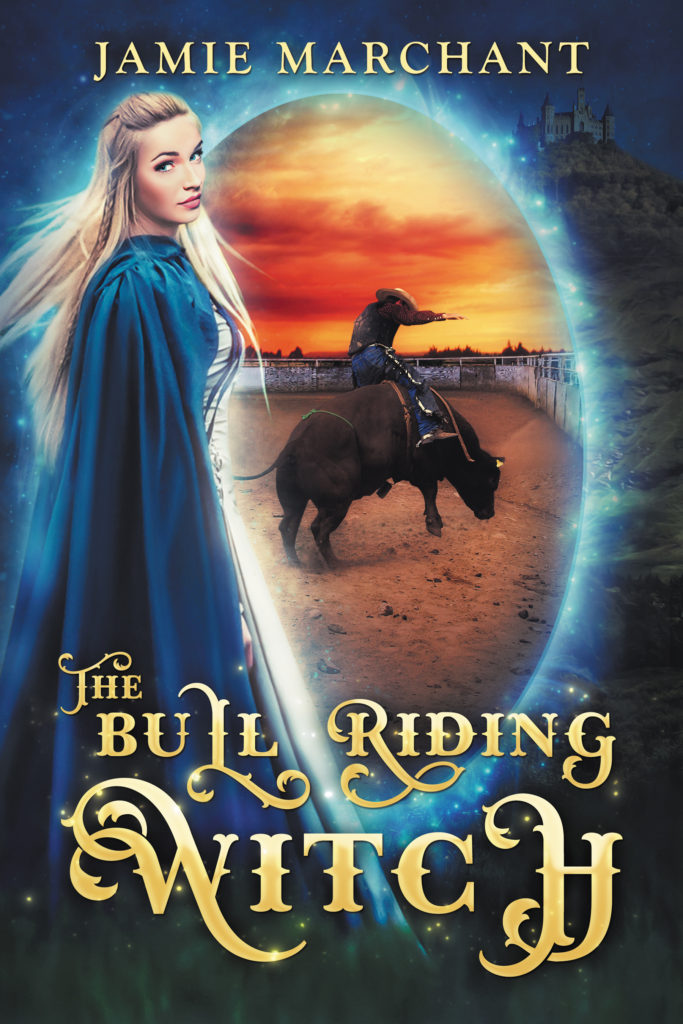 Uncle Gilly ran up to me. "Whisper Willow gots colic. Go and walk her. I'll call the vet."
Surely Jocelyn could have better handled the problem than I. My training was incomplete. Still, Jocelyn was gone, and I could cure a colicky horse. I didn't have any herbs or a place to make a potion, so I'd have to use a poppet even though that hurt a hell of a lot more. Uncle Gilly headed for the farmhouse, and I headed to the barn.
Unlike the stench of Joshua's trailer, the barn had a fresh, clean, and familiar scent of straw. There were stalls for about a dozen horses and a similar number of cows. Tied to a post in the grooming area was a bay mare. The horse was rolling her eyes, snorting and groaning. I looked around, but I couldn't see materials for making poppets. I thought of my sock. I quickly took off one boot and removed the sock. Dear gods, it stank! I carefully approached the suffering mare; a colicky horse doesn't pay much attention to its surroundings and can step on you without even realizing you're there. I plucked two hairs out of her mane, stood back, and used the hairs to tie the sock up into the semblance of a horse.
I looked around for something to cut myself with. In the tack room, I found a very long knife, almost a sword, hanging on the wall. I grabbed it, brought into the main barn, and carefully made a cut a on my left thumb. At least, I meant to do it carefully, but the knife was so gods-cursed big that I slipped and cut a nearly half inch gash. I dripped, or rather gushed, blood onto the sock. One drop should have been enough, but I was bleeding everywhere.
I sucked on my bleeding thumb for a second and then ignored it and breathed on the sock horse. I held the image in my mind of it being the living horse. A sting shot through my hand as the magic gathered. I ignore the pain, breathed again, and focused my will. It felt like a bright light was exploding inside me, and my head exploded with it. I breathed a third time, and a hard lump coalesced in the sock horse's abdomen, right where the horse's intestines must have been blocked. I just avoided screaming at the pain in my own abdomen. Good gods, I hated poppets. I used the large knife and cut a hole in the poppet where the horse's anus should be. With one bleeding and one nonbleeding hand, I gently massaged the lump toward the hole. The pain dulled to several levels below excruciating.
The mare reared and whinnied, and I had to jump back or risk getting crushed. Soaking the poppet in blood, I continued massaging the lump further toward the hole, and the horse fidgeted and snorted. I gritted my teeth against the pain and squeezed and squeezed, the lump getting slowly closer to the hole. It would only move a miniscule distance with each squeeze because that was as fast as the blockage could move in the mare's intestines.
Uncle Gilly came back and stooped over me. "What in God's name are you playing with a bloody sock for?"
I thought it would have been obvious. "It's a poppet." When he looked at me blankly, I add, "For magic."
"Magic," he snorted and pointed at the sock. "There's no such thing as magic."
I gaped at him, stunned that anyone could deny the obvious. "There most certainly is."
Uncle Gilly laughed. "That's what the aliens want you to think."
I didn't know what he was talking about, but at the moment I needed to concentrate on the spell. I ignored him and continued squeezing the lump farther toward the hole.
Uncle Gilly picked up the large knife. "What's all this blood on my machete?"
I guessed that was what the knife was called. "Be quiet. This hurts, you know."
He gave a loud humph, but didn't say anything else until I finally squeezed a lump of who-knows-what out of the sock, and the mare let out an immense fart and pooped out a huge pile of . . . you know. I sat down hard on the wooden barn floor, as the pain drained out of me and near euphoria took its place. Magic might hurt, but the aftereffects were almost always worth it.
Uncle Gilly stared at me open-mouthed. "What kind of alien technology is this?" He took the sock from my hand and picked up the lump that I squeezed out of it and sniffed it. "Where'd someone like you get this? You haven't been abducted lately, have you?"
I wasn't sure what all this talk of aliens was about, but evidently he'd never seen magic like this before. Considering how badly telling the truth had gone with Jocelyn, I hesitated. But I didn't know what else to say. "I'm not Joshua."
Uncle Gilly squatted down near me. "Then who are you?"
"I'm Daulphina, the crown princess of Asteria."
Uncle Gilly rubbed his chin. "Asteria? Is that in the Andromeda Galaxy or farther out in the Sunflower?"
Confused and still bleeding, I shook my head. "Galaxy?"
"Yeah, you know, what planet are you from? Is Asteria anywhere near Zenon?"
"I'm not from a different planet. Asteria is a parallel realm, at least I think it is."
"Parallel realm?" he scoffed. "And people think I'm crazy when I tell them about the aliens from Zenon who abducted me." He picked up the machete and pointed it at me. "You just don't want to admit that aliens have replaced Joshua with you."
"They did?" I wondered if Uncle Gilly knew something I didn't.
"How else could it happen?" He squinted his eyes at me. "Although I don't know why they'd bother with a loser like Joshua. It's usually important people they mess with, like world leaders and talk show hosts."
"It is?"
He nodded knowingly. "Of course. Our last two presidents have been aliens." He leaned closer and whispered as if he didn't want these aliens to hear. "I'm pretty sure Oprah Winfrey is, too."
I was sure I'd heard the name before, but I wasn't sure where. Then, I remembered. "Meemaw was talking about Oprah."
Uncle Gilly nodded. "She always does. Oprah creates mind slaves of people if they watch her too often. Her slaves even read the books she tells them to, if you can imagine that."  He drew back and raised the machete. "But you already know all about that, don't you?"
"I don't know anything." I looked away. I could feel tears forming in the corners of my eyes, and I didn't want him to see them because, of course, princesses don't cry.
Uncle Gilly hesitated, then patted me on the shoulder and sounded more sympathetic. "It wasn't your choice to come here, was it?"
I shook my head. "Somebody did this to me."
"And they didn't give you any instructions?"
"None. I don't understand this place."
"What you going to do about it?" he asked.
Furiously, I wiped at my eyes with my left hand. "I have no idea. I don't even know where to begin looking for an answer."
Uncle Gilly scratched his head; then he smiled. "The library, of course. Aliens have been trying to control information by making everything digital, but the library in town is holding out."
I didn't know what he meant about making things digital, but could a library really hold the answers I needed? "Where is this library?"
"In downtown Hamilton, of course."
"Would they allow me to use it?" I looked down at myself. Who would allow a peasant as I seemed to be to touch his precious books?
Uncle Gilly laughed. "It's a free public library. Anybody can use it."
I gaped at him. "Anyone?" Somehow a free library seemed more bizarre than a horseless carriage. Books were expensive. The librarian in my father's palace got possessive when I even wanted to look at a book, and he had to be threatened with dismissal before he would allow me to take one out of the library. In fact, my father was the only one the librarian didn't give a hard time.
"Sure, anyone." Uncle Gilly straightened as if that settled matters and walked out.
"Wait," I said. I needed Uncle Gilly to tell me more. Maybe he didn't believe in magic and parallel realms, but he at least seemed to know something. Still, he was gone. I leaned back against the barn wall, damning whoever had done this to me. I wanted to blame my bastard brother or my stepmother, but my bastard brother was even more poorly trained than I was, and my stepmother didn't have any magic at all. Could they have paid a witch to do this to me?