Release Day Party for Sunweaver by Ryan Mueller
A good friend of mine is releasing his new novel today. You ought to check it out.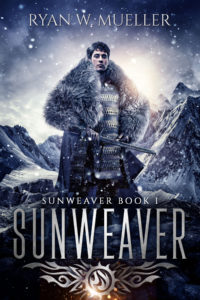 The sun is dying. The world has turned to ice. Only the Sunlord can keep humanity alive.
Deril was supposed to be the next Sunlord, following in his father's footsteps. But it doesn't matter how much Deril trains. He is no savior, just an ordinary Sunweaver, powerful but useless. But then Fireweavers kidnap his father, intending to use his Sunlord powers to free their mad god. Now Deril must infiltrate a secret Fireweaver organization and earn their trust. If he doesn't, the mad god will kill all Sunweavers. Driven insane by centuries of imprisonment, he may even finish what he started…and destroy the sun entirely.
Rella is a Fireweaver living in secret. When her powers are discovered, she must flee to the frozen wasteland Fireweavers call home. There, she'll come face-to-face with her family's darkest secrets and with the plot to free the mad god. She has the chance to stop it, but first she'll have to decide if she can support Sunweavers, the people who executed her mother. The people who would do the same to her without a thought.
Kadin is Lightless. He has no Sunweaving or Fireweaving talent. Sold into slavery by his abusive father, he struggles to survive under his cruel master. But when Kadin manifests strange abilities, he begins to suspect he isn't as powerless as he once thought. He may even be the key to stopping the mad god's return…but only if he first conquers the anger and darkness within him.
An excerpt follows below. If you like want you read, you can purchased the book by clicking below or on the picture above.
Excerpt
Chapter 1: The Missing Sunlord
The sun was dying, and Deril could do nothing about it.
He shivered in the chill air, looking up at the dim white sun, at the gray sky that mirrored his mood. Closing his eyes, he began his daily prayer to Aralea.
Please, Aralea, grant me the powers of a Sunlord. Let me follow in my father's footsteps. I can't keep living like this. The expectations, the failure, the looks people give me in the corridors—it's all too much. I feel like I'm going to break under the pressure. Why did you keep these powers from me?
Deril had tried too long to keep his anger concealed. He no longer cared. Aralea had done little to help him, little to help anyone in Tarileth. She deserved his anger.
Please, if you can't make me a Sunlord, give me some way I can prove myself. Some way I can make a difference. That's all I ask. When he finished praying, he was nearly in tears.
He opened his eyes and shivered again despite the chamber's Sunlamps. The world could not survive on Sunlamps alone. That much was obvious. It needed Deril's father, needed Deril. Fifteen years he'd trained alongside his twin brother Karik. Fifteen years and neither of them was a Sunlord.
They had failed, and their failure would doom the world.
At the open door, Deril passed his friend Tiran, one of the temple's Sun Guards. Tiran wore a golden surcoat lined with fur. Deril avoided his friend's gaze, hoping he could also avoid the shame burning within him.
Tiran put a hand on Deril's shoulder. "Did you find luck with the goddess?"
Deril barked a laugh. "I think you already know the answer to that."
"You'll find your powers one day."
The encouragement sounded false, but Tiran was only trying to be a good friend. The kind of friend Deril didn't deserve, for he brooded too often and spent most of his time obsessing over his training, hoping he'd missed something that would unlock his powers.
Hoping for a dream that seemed more elusive every day.
"Perhaps I will," Deril said. But never in the history of Tarileth had a Sunlord come into their powers after age twenty, and Deril was twenty-five.
"You don't believe that," Tiran said.
"It isn't easy to live with this burden."
"Maybe you need to do something different with your training," Tiran said, following Deril through the stone corridors. "Are you sure your father hasn't missed something?"
"It doesn't matter. It shouldn't be this hard." Deril thought of all the evenings he'd spent in the temple's library, reading every book they had on Sunweaving theory. It was possible that no one knew as much about Sunweaving as he did. So the fault had to lie with him.
It didn't matter what anyone said. Deril was not a Sunlord.
"I hate seeing you like this," Tiran said. "You used to be much happier."
"I was a child back then, and I thought I would come into my powers one day." Deril shook his head. "I don't know how Karik manages to stay so upbeat. If I didn't know better, I'd say he doesn't care about being a Sunlord. But how can he not care?"
"I'm sure he cares," Tiran said as they rounded a corner. He was about to say something else, but then a scream came from a nearby corridor, followed by a low rumble. Deril started toward the sound, hanging close to the golden-brown walls. A series of faint vibrations echoed, growing ever softer. What in the core was happening?
Tiran clutched at Deril's arm. "Be careful. You're too important to risk yourself."
Too important. That was the last thing he'd call himself, the last thing he deserved to be called. He rushed through the temple's wide stone corridors, Tiran at his side. The rumble didn't sound again; the vibrations had ceased.
They rounded a corner and came upon the bodies of two Sun Guards, who lay on the floor in pools of blood, their heads resting a few feet away. They'd been guarding the Sun Chamber, where Deril's father was using his Sunlord powers to strengthen the sun.
If something had happened to Deril's father—
No. His father had to be alive. He was the only Sunlord left.
Tiran grasped Deril's shoulder. "Stay out here."
"No. We can defend ourselves better if we stick together."
"All right," Tiran said, but he frowned as he pushed through the heavy stone door, entering the Sun Chamber. Deril followed, offering a silent prayer to Aralea—more for his father's safety than his own.
The chamber was empty.
At its other side, a gaping hole had opened in the wall. There was no blood on the floor, but someone had kidnapped the Sunlord, taking advantage of the weakness he experienced after fueling the sun for a few hours.
But who would kidnap the Sunlord? Without him, humanity would die.
"We need to inform Captain Hanir," Tiran said.
"I'm going after them. There might still be a chance to save my father."
"No," Tiran said. "You don't know what you're facing."
"We don't know what they intend either. If they're Fireweavers, they might be crazy enough to do anything, even kill him. We can't take that risk. You inform Hanir. I'm going."
"Well, I can't stop you," Tiran said. "But please be careful."
"I'll do what I can." Deril raced to the other side of the Sun Chamber, then through the hole in the wall.
The temple stood on a flat portion of a small mountain overlooking the city of Hyrandel, so whoever had kidnapped Deril's father had to go down the mountain. In addition, dozens of Sun Guards patrolled the perimeter of the temple grounds, and a wall surrounded the temple.
How could anyone get through?