Laura Thompson, an elf or at least someone who writes about them
Welcome to Laura Thompson, a fantasy writer in the know. Please read about her and check out her work if she intrigues you.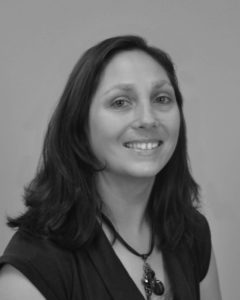 Laura Thompson grew up in a small town on an island that sits in the middle of Lake Champlain in Vermont. She has been writing short stories since the young age of seven and has been an avid reader for longer than that. Although Laura is an adult she admits her imagination is still as active as it was as a child only now, instead of using it to create make believe games she harnesses it through writing.  Her first novel was written and completed at the age of sixteen while taking a creative writing class and although not published Laura still feels it was the first step on her path of becoming an author. Laura started writing the Elven Quest Series in 2007, "I had not written for pleasure in a long time and one day the characters from The Burden of Destiny entered my mind and wouldn't leave. I had no choice but to sit down and write their story. Two years and over 800 pages later both stories are finished and I'm so excited to share them with the world."  Laura holds her Masters in Higher Education Counseling, has a BA in Sociology and co-wrote the published ethical theory model entitled Key Factors in Making Ethical Decisions Model, a chapter in the textbook: Ethical Decision Making for the 21st Century Counselor (Counseling and Professional Identity) by Donna S. Sheperis and Stacy L. Henning. Laura currently resides in Massachusetts with her husband Daniel, wonderful son William and cat Luna.
The Burden of Destiny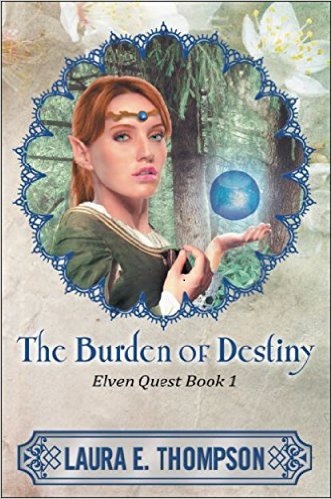 Humans are "primitive, unintelligent, and highly emotional." Luckily that's only half of Isobel's problem…
Dark beasts and terror are coming. Fourteen year old Isobel is warned that only her special instincts and abilities can save her villagers from extinction caused by evil creatures called the Carachi, possibly sent by her mother's killer. To save her people and preserve her safe world, Isobel must cross the bridge from her childish mind to reality and accept that she cannot escape her destiny.
Legends are steeped in truth and there is much to learn about the secrets of the world in which Isobel lives. After learning of her family's secret past and her own magic abilities and with the help of her friends and a wise mentor she will leave her childhood home in Greenhill to forge new bonds with an ancient race that has been hidden for centuries, and try to persuade them to emerge once again and fight for her people. Their existence and the elements that provide her world with harmony depend on it. If successful, Isobel will have the chance to confront her mother's killer. But, if she fails, the world could fall into darkness forever.
Full of adventure, The Burden of Destiny follows a young heroine's quest to find her place and save her people. This young adult fantasy novel will inspire the younger generation by addressing the meaning of trust, duty, loss, love, and the importance of preserving the world in which we all belong.
Interview
Tell us a little about yourself?
I come from a small town in Vermont, which I believe inspired much of my book. I have been a fan of fantasy for a long time, but forgot how much I loved it until I read Harry Potter as an adult. I was then hooked on it again and started reading tons of fantasy novels before deciding that I wanted to write one of my own. I am a simple girl that loves reading, writing, spending time with family, and spending time in nature.
2. What made you want to become a writer? I
have always loved writing and was writing stories at the age of 7. In high school my dad wrote a play called Seniors about relationships between older people, like the ones he grew up with, his parents, aunts and uncles etc. Our town did a production of the play and he received a standing ovation. I was so proud that all of the people in the audience were applauding my father's words that came from his own heart and mind. I decided then that I wanted to write something of my own and have the courage to share it with others.
3. Of all the characters you have created, which is your favorite and why?
This is super tough, I love them all. I feel that the main character, Isobel is somewhat of a mirror image of me when I was young, so I identify with her greatly. However, I love the antagonist Madeara, she has so much more to her story that will be revealed in the upcoming books and I loved writing her back story.
4. What was the hardest part of writing your book?
Editing! I am long winded by nature so having to go back and cut out pieces of the story was very difficult to do and took a lot of time.
5. Do you have a day job in addition to being a writer?  If so, what do you do during the day?
Yes I do. I work for a global corporate bank as a Global Governance Officer. I am a mentor in their mentoring program and a member of two committees, one that creates programs for employee engagement and one that approves grants for our foundation which gives grant money to nonprofits that support education for under privileged youth.What is your favorite writing tip or quote?
6. Tell us a little about your plans for the future.  Do you have any other books in the works?
Absolutely! I have 3 other Elven Quest books almost ready to be published, the second one will be out next year. I have also been writing a YA drama that I hope to publish next year as well. I am also now offering training workshops for other writers as a writing coach, as well as freelance editing for other others works. The next one will be released in 2018.
I also  just started a free writers support group called Wise Warrior Writers on Facebook. You can find it
here
:
7. If you could live in any period in the past or future, which would it be? Why?
I've always been fascinated by Europe in the 1600's. Elizabeth the 1st was my favorite queen to read about. I think I would want to go back to that time period and see what it was really like.
8. If you could shift into any animal, which would you chose? Why? If you were going to be permanently changed into an animal? Would you still pick the same one? Why or why not?
I think I would choose something like a sea otter that spends time near water and loves to swim but can also stay on land if necessary. If I were to permanently change to an animal I would want to be a sea bird that has the ability to fly, swim and live on land.
Where can we find you online? (please cut and paste links):
Blog: https://lauraethompsonauthor.blogspot.com/
Website: https://lauraethompson2.wixsite.com/mysite-1
Facebook: https://www.facebook.com/LauraEThompsonauthor15/
Twitter: https://twitter.com/LauraEThompson6
Amazon: https://www.amazon.com/Laura-E.-Thompson/e/B01JTS0MMO/ref=sr_tc_2_0?qid=1503020071&sr=1-2-ent
Barnes & Noble: https://www.barnesandnoble.com/w/the-burden-of-destiny-laura-e-thompson/1123969620;jsessionid=0CCC922F0BE6333A25929C5F25A309FC.prodny_store01-atgap04?ean=2940158405136
Others: https://www.smashwords.com/books/view/645261
https://www.goodreads.com/book/show/30737780-the-burden-of-destiny?from_search=true
My email: [email protected]
Excerpt
They scoured the area on foot and eventually Isobel found a few trees that had been knocked over by a heavy storm that were lying on top of one another and created a small wall. They tied the horses to some large trees out of sight and sat behind the tree wall. They held their weapons and didn't speak.
The others ate a few pieces of meat, but Isobel waved it away to focus instead on listening for the sound. Hours passed and the rumble would disappear and then reappear without warning—closer it seemed. Then it would disappear for a long time and just when she began to think she had imagined it, she would hear it again for a brief moment or two. Just long enough to put her senses on high alert. It was in the middle of one of those long stretches of silence that Isobel began to think that maybe the creatures making the noise had retreated. The same time that thought passed through her mind, she heard a terrible screeching sound above her. All three of them jumped and peered into the treetops.
Isobel saw movement on a branch above them. She strained her eyes and happened to make out the dark shape of the raven. It peered down at her, and although she couldn't see its evil eye, she could feel its hatred. It screeched again, and then they heard large heavy footsteps very close by. They heard branches breaking under the weight of heavy legs and the snort of heavy animal like breathing.
"Oh no. What is that?" Mauve whispered.
"It's them. Carachi I think," said Isobel. "I told you I didn't imagine it."
They had no more time for words, however, because all too soon they were surrounded. They heard the creatures searching all around them, coming closer and closer.
If you like what you've read, share what you think in the comments. Also, Laura's book can be purchased by clicking below.