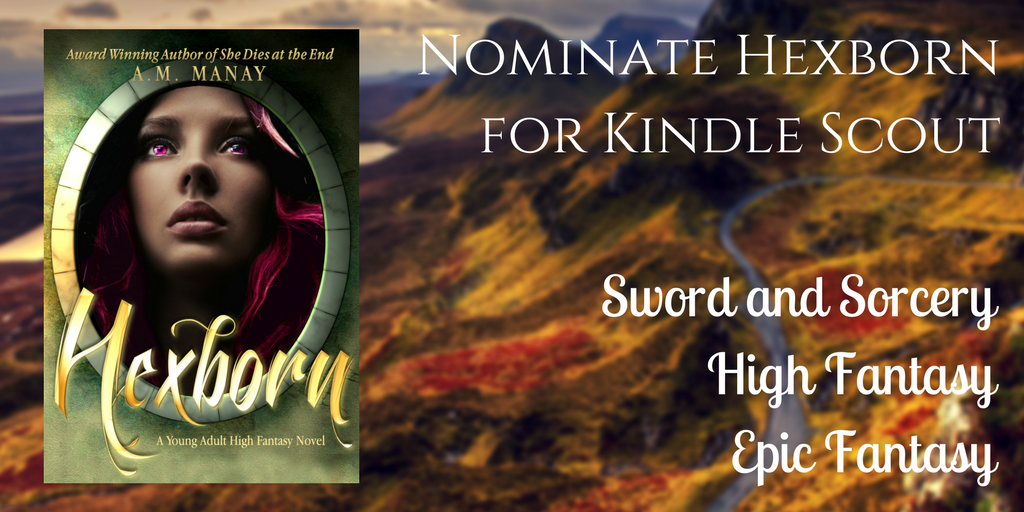 Meet my guest, A. M. Manay, and read about her exciting my novel.
The Society of Hexborn
Something is rotten in the kingdom of Bryn.  The society in Hexborn, my new fantasy novel, is riddled with injustice of various kinds.  Shiloh, our heroine, learns this from a young age.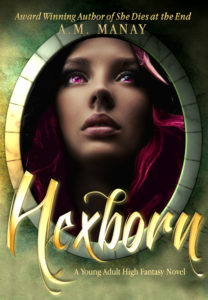 From Hexborn:
"Why is it against the law for bastard wizards like us to get married and have children?" Shiloh asked Brother Edmun, her voice piping up without warning, as was her wont.  They had heretofore been eating their midday meal in silence.  The eight-year-old nibbled at a piece of cheese as she awaited his answer.  She had little appetite, as she had been recently unwell, but she knew her teacher would scold her if she refused to eat.
"It matters not for you.  The hexborn are as barren as the Deadlands," Edmun replied, sounding irritated at the interruption.  He immediately returned to his dinner, missing the cloud that passed over his student's face.
"I know.  But if I weren't going to be barren?" she countered patiently.  She knew from experience that, no matter how annoyed her teacher was by a question, if she persisted, he would answer it.
"The nobility doesn't want magical abilities to spread throughout the whole population," Edmun explained, as though it were obvious to anyone with any sense at all.  "So, they do not generally permit us half-bloods to procreate."
"Why not?"
"Why not? Why not?  Did your fever melt your brains, child?  Because they don't want to lose their power over the peasantry!  If every idiot in the kingdom could make proper use of a wand, what would give the noblemen absolute power over their landfolk?  What poor farmer would be content to grow turnips all day if he could cast spells like an earl instead? 
"They give us just enough prestige and wealth to make us better than the rabble, so we will spend our lives willingly serving the nobility's interests.  But they sure as hell don't want us passing our meager treasures along to our children when they can take it back for themselves instead before our bodies are even cold."
Shiloh cocked her head thoughtfully.  "Is the nobility's thirst for power also the reason that I'm the only child in our village you have taught how to read?"
"There she is!  There's my girl!" he cried.  "You had me worried for a moment.  Listen to me, poppet.  Everything our betters do, they do for wealth and for power.  Every law the crown makes.  Every custom the noblemen enforce.  Every little reward they give to the likes of us for helping them keep what they have.  You bow and scrape, and you thank and obey, but you don't let your mind go to sleep.  You keep your eyes and ears open.  You look for the reasons behind the pretty words, the favors, the gifts.  You look out for yourself.  You act for your own advantage.  You don't get complacent.  And . . ."
"And what, Master?" Shiloh prompted him.
"And you never, never trust them."
***
You see, the ruling elite of the country possess the ability to do magic, and they are determined to keep that power confined to noble hands.  Any commoner who shows a shred of magical talent is forced into religious or government service and forbidden from having children in order to prevent the spread of such gifts through society.
The most gifted of those children, most of whom are the bastard offspring of noblemen, are invited—commanded, really— to attend the Royal Academy, studying alongside noble children and obtaining posts at court.  Those children, being born out of wedlock, are given a last name based upon the region of the kingdom in which they are born.  Most of the professors at the Academy were once such children.  Commoners with magical ability are, essentially, glorified slaves to the court or to the church.  Those without such talents labor under the boot of those who do.
The country of Bryn is only fifteen years removed from a ruinous civil war in which a brother and a sister fought for their father's throne.  The sister, Alissa, who lost her battle for power when she was killed in the last days of the conflict, is now known as "The Usurper."  The dark magic used in the battles that raged for several years have left swaths of destroyed land behind, and the kingdom is only beginning to recover from its wartime losses.
The winner of the war, King Rischar, is much his sister's inferior in every way.  Greedy and lazy, he is easily swayed by his advisors and makes governing decisions primarily out of self-interest.  Lords jockey for favor, and they have no care for those they might injure in the process.
It is in this environment that the characters in Hexborn live and work, attempting to make their way within an unjust system fraught with trouble and intrigue.
I hope you are interested enough to want to learn more about the world I have created.  Please head on over to Kindle Scout and nominate Hexborn for publication.  Remember, if you nominate Hexborn and it is chosen, you automatically receive a free copy of the ebook when it is published!  Thanks much to my host and to you all, and happy reading.
***
Bio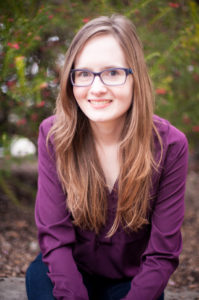 A.M. Manay is an award-winning fantasy author in the San Francisco Bay Area. She is also a former inner-city chemistry teacher, a wife and mother in a multi-racial family, a lover of comic book movies, a Lupus warrior, a Clerk of Session, and a 9Round enthusiast. She loves to write page-turning stories with complex, diverse characters who inhabit interesting worlds.
Book Link for Scout Campaign
https://kindlescout.amazon.com/p/2Q22TVKET6NES
Author Links for A.M. Manay
Email: [email protected]
Website: www.ammanay.net
Blog: http://ammanaywrites.blogspot.com/
Facebook: facebook.com/ammanaywrites
Twitter: @ammanay
***
For anyone who leaves a comment EVERY DAY of her blog tour, you will go into a drawing for an autographed paperback of her YA FANTASY NOVEL:  "HEXBORN."
This tour sponsored by 4WillsPublishing.wordpress.com.